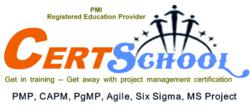 Individuals looking to maximize their attractiveness in today's highly competitive job market and companies looking to capitalize on their organization's existing talent capital have a new Agile Certification program to give them an edge
Los Angeles, CA (PRWEB) June 28, 2011
Complementing the new PMI Agile Certified Practitioner (PMI-ACP) certification, due to debut in the third quarter of 2011, CertSchool has announced the CertSchool Agile Practitioner training program in preparation for the PMI Agile Certified Practitioner (PMI-ACP) Certification.
Individuals looking to maximize their attractiveness in today's highly competitive job market and companies looking to capitalize on their organization's existing talent capital have a new Agile certification program to give them an edge. CertSchool training programs benefits individuals to demonstrate their level of professionalism in Agile Practices and increase their professional versatility.
Key PMI Dates: PMI started accepting applications from May 23, 2011. First pilot exam will be available in September 2011.
Those enrolled in CertSchool training programs take full advantage of unparalleled instruction, educational resources, practice exams, the Pass Guarantee, and will be well on their way to advancing their careers with PMI certification.
CertSchool will also offer two additional certification programs: "CertSchool Program Management Practitioner" and "CertSchool Six Sigma Practitioner" (preparing students for ASQ Six Sigma Greenbelt), beginning in late August of 2011. All programs are specifically designed to address the requirements of PMI certification exams as effectively as possible. These 3 brand new Certification programs also provide sufficient professional development units (PDUs) to maintain PMP or other PMI, ASQ credentials.
Prospective clients serious about Agile Certified Practitioner (PMI-ACP), PMI Program Management Certification (PgMP), and ASQ Six Sigma Green Belt (CSSGB) certification are encouraged to call (888) 369-1221, or contact the school at: http://www.certschool.com/info/contact-us.
Students with any questions regarding the new PMP exam or other issues are also invited to call, and get the answers and guidance they need to take their training and careers to the next level.
About CertSchool.com
Global training leader CertSchool.com offers corporate on-site, in-class, and online (100% in-class equivalent) and professional training in: Project Management, Program Management, Portfolio Management, PMO Setup, Various management methodologies (Sigma, Agile XP, Agile Scrum, Prince2, RUP), MS Project Professional/Server, and PPM Solutions (MS, HP). CertSchool.com also offers customized training to some of the world's biggest companies, including: Bank of America, Caterpillar, Dell, Farmers Insurance, Keiser Permanente, Southern California Edison, and many more.
Headquartered in Los Angeles metro, California, CertSchool.com offers training in 14 locations across the globe, including: Bangalore, Boston, Charlotte, Chicago, Costa Rica, El Segundo, Houston, Irvine, Las Vegas, Los Angeles, New Jersey, Pasadena, Phoenix, Portland, San Jose, and Seattle. CertSchool.com also offers online pmp certification training, which is equivalent to its classroom offering.
###