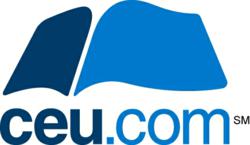 Old Saybrook, Conn. (PRWEB) March 15, 2012
CEU.com, a business unit of The Institutes, has developed a new Insurance CE Compliance Assistant Tool to help insurance practitioners better understand their continuing education insurance compliance requirements and make course recommendations to ensure they achieve their learning goals. The Insurance CE Compliance Assistant Tool benefits insurance organizations and their employees by reducing the time spent on administrative tasks, so individuals can focus on their job responsibilities and be more productive.
Based on recommendations from practitioners, CEU.com created the Insurance CE Compliance Assistant Tool to give customers:

A clear "up-front" understanding of their insurance CE requirements
A convenient means to match course selections to those requirements
An easy-to-use dashboard to measure progress against requirements
The Insurance CE Compliance Assistant Tool will be released in two phases. Key features of Phase I, which are available now, include a simple three-step process that enables agents or adjusters to:

Select their license states
Select courses based on single or multi-state requirements
Easily register for courses
Phase II, targeted for delivery in late 2012, will feature an even-wider variety of tools and functions to:

Help practitioners track their educational progress against license, designation, or organizational requirements
Assist insurance organizations save money and time by simplifying the insurance CE compliance tracking and management process
Visit http://www.ceu.com to learn more about the new Insurance CE Compliance Assistant Tool.
###
About The Institutes
The Institutes are the leader in delivering proven knowledge solutions that drive powerful business results for the risk management and property-casualty insurance industry.
The Institutes' knowledge solutions include the CPCU designation program; associate designation programs in areas such as claims, risk management, underwriting, and reinsurance; introductory and foundation programs; online courses; research; custom solutions; assessment tools; and insurance continuing education (CE) courses for licensed insurance professionals and adjusters through its CEU.com business unit.