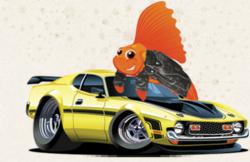 It continually surprises me how little some people know about what goes into a credit score, and also how little importance some people give to maintaining a good score.
Los Angeles, CA (PRWEB) May 22, 2012
RoadFish.com men's lifestyle and finance magazine recommended the free credit score quiz just released by the Consumer Federation of America (CFA) that tests to see how knowledgeable consumers are about credit scores, and what factors go into determining one's credit score. The CFA released the 20-question quiz in conjunction with VantageScore, which is free to take and provides explanations for every answer to each question.
Elisabeth Leamy of ABC News reported that the CFA recently created a quiz about credit scores, designed to determine the quiz taker's knowledge on what lowers a credit score, and the factors that influence somebody's score. Leamy states that it's difficult to improve one's credit score if you don't understand exactly how determining credit scores work, and that it's worthwhile to work on your credit score to get lower interest rates and save money.
The Consumer Federation of America itself is a nonprofit organization comprised of close to 300 nonprofit consumer groups. The CFA was founded in 1968, and prides itself on being a research, advocacy, education, and service organization.
RoadFish.com's Senior staff writer is quoted as saying, "The CFA's quiz is right on the money. It continually surprises me how little some people know about what goes into a credit score, and also how little importance some people give to maintaining a good score. Hopefully, this quiz will open some eyes and get people motivated to actively work on their scores. Having a good score can honestly save a lot of money in interest rates, not to mention make the difference of whether someone gets approved or not for a loan. I think everyone should take this quiz, even if you think you already know everything there is to know."
Leamy reports that of the 22,623 people that took the quiz, 21,570 passed, although there were a number of important questions that the majority of people got wrong. The article points out that 10% of quiz takers answered that student loans bear no weigh towards a credit score. Leamy reports that the Federal Reserve Bank of New York released a report earlier in the year which stated that Americans currently possess more student loan debt than we do credit card debt, and that late payments can have an incredibly harmful effect on a borrower's credit. The other question that Leamy drew attention to asked, "On a $20,000, 60-month auto loan, about how much more would a borrower with a low credit score typically pay than a borrower with a good score?" About 50% of people got the answer wrong, with guesses between less than $1,000 up to $5,000. The correct answer was actually more than $5,000. Leamy reported that it is disconcerting that so many people scored incorrectly, because this question alone proves that a bad credit score can cost a borrower thousands of dollars.
One other disconcerting thing that the ABC News article pointed out is that large groups of quiz-takers believed that credit scores were influenced by such factors as age, ethnicity, and even marital status. Credit scores can be considered "blind" in those categories, or in other words they simply don't see age, race, marital status and are rather based entirely on credit history, or numbers.
RoadFish.com believes that this quiz was aptly timed. RoadFish.com's Senior staff writer is quoted as saying, "According to recent reports, American consumers have been paying their credit cards on time this year. There are fewer late payments than last quarter, and more people than last year have and are using credit cards. It seems to me that Americans are making a solid effort to pay off debt and pay their dues on time, and it is so worthwhile to take a quick quiz that can shine a spotlight on any areas of credit that you were previously in the dark on."
Last week, Alex Veiga of the Associated Press reported that according to a report from Transunion, the rate of overdue payments on credit cards by borrowers dropped from 0.78% in the fourth quarter of 2011, to 0.73% in the first quarter of 2012. Not only that, but in 2011, 20% more new credit cards were issued to consumers than had been in 2010. And in the first quarter of 2012, 21.2% of new cards issued went to people with less-than-optimal credit scores.
About RoadFish.com
RoadFish.com is an online men's lifestyle and finance magazine targeted toward men in their 30's and 40's that have already attained a moderate level of success in life, and are striving toward more. It goes over current events of interest to this group, such things as exciting adventures, consumer interests, and famous internet marketing entrepreneurs, as well as ways to make more and save more money. It is a publication owned by Purpose Inc.