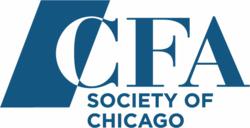 Chicago, IL (PRWEB) March 01, 2012
The Illinois Institute of Technology team was selected as the winner of the CFA Institute Research Challenge, hosted by CFA Society of Chicago on Feb. 16. The IIT Stuart School of Business team had the highest overall score, defeating teams from DePaul University, Loyola University, University of Illinois at Urbana-Champaign and University of Chicago.
Illinois Institute of Technology Stuart School of Business team members, Raghav Dubey, Ben Hurh, Xiaoyi Lei, Brian Rieger and Jason Strimpel worked with IIT faculty advisor Michael Rybak, CFA, and industry mentor Eric Wanger, CFA, on their winning project.
Eight teams were judged on a written equity research report, and the field was narrowed to five teams based on their scores. These final five teams gave an oral presentation that summarized their research and recommendation of Zebra Technologies Corporation (NASDAQ: ZBRA), a company with an extensive portfolio of bar code, receipt, card, kiosk and RFID printers and supplies, as well as real-time location solutions.
A CFA charterholder and CFA Chicago member mentored each participating team, and all participants were introduced and held to the CFA Institute Code of Ethics and Standards of Professional Conduct. The teams' research and conclusions were based on interactions with senior executives at Zebra, investment thesis and risks analysis, financial modeling, valuation, comparable benchmarking and scenario creation.
The IIT team winners will each receive a three-month internship at Morningstar, Inc. (NASDAQ: MORN), a leading provider of independent investment research (subject to usual and customary HR requirements). In addition, the first, second and third place teams received various prizes sponsored by CFA Chicago.
The IIT team will advance to compete in the Americas regional competition in New York on April 10, and the winner of the Americas competition will then vie for the global title on April 11 in New York.
Additional information on the Research Challenge and its participants can be found on the CFA Institute website, http://www.researchchallenge.org.
CFA Society of Chicago
CFA Society of Chicago, http://www.cfachicago.org, is the world's oldest investment analysts society. It was founded in 1925, with a membership of 4. Today, the society is the 6th largest society in the world, with more than 4,000 members. CFA Society of Chicago aims to be the premier local resource for Chartered Financial Analyst designees, candidates and other investment professionals. Specifically, the Society empowers a community of financial professionals and serves as a platform to: create programs, disseminate information, and provide services of direct benefit to members; promote adherence to the highest ethical and professional standards; and foster a culture of inclusion, diversity, and respect among investment professionals.
CFA Institute
CFA Institute is the global association for investment professionals. It administers the CFA and CIPM curriculum and exam programs worldwide; publishes research; conducts professional development programs; and sets voluntary, ethics-based professional and performance-reporting standards for the investment industry. CFA Institute has more than 100,000 members, who include the world's 90,000 CFA charterholders, in 135 countries and territories, as well as 135 affiliated professional societies in 58 countries and territories. More information may be found at http://www.cfainstitute.org.
###