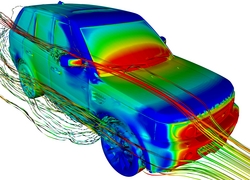 At Jaguar Land Rover, we are committed to driver-focused, sophisticated engineering and are delighted that the XF was chosen as the 2008 Car of the Year--we know our team's engineering and use of PowerFLOW simulations had a hand in helping to make this possible
Burlington, MA (PRWEB) January 22, 2009
Exa® Corporation, a global innovator of fluids simulation solutions for product engineering, is proud to announce that the latest release of its flagship product, PowerFLOW®, is already in production use at Jaguar Land Rover for aerodynamic and acoustic performance analysis. Released earlier this year, PowerFLOW 4.1 offers significantly improved simulation speed, enhanced thermal management capabilities, as well as expanded animation functionality with Exa PowerVIZ®. These improvements further Exa's commitment to provide a Total Analysis solution where a single model is used for evaluating aerodynamic, thermal and aeroacoustic performance early in the design process. This approach reduces costs by reducing the number of physical prototypes and allows customers to bring better-performing products to market faster.
"At Jaguar Land Rover, we are committed to driver-focused, sophisticated engineering and are delighted that the XF was chosen as the 2008 Car of the Year--we know our team's engineering and use of PowerFLOW simulations had a hand in helping to make this possible," comments Adrian Gaylard, Jaguar Land Rover Technical Specialist. Gaylard continues, "We have used Exa's suite of products over the past five years for early design evaluation and found the accurate simulations on complex geometry key to meeting our development targets. The XF design used both aerodynamic and aeroacoustic simulation results from Exa to optimize the vehicle long before models were physically built."
"Jaguar Land Rover exemplifies the strong adoption of PowerFLOW 4.1 by our customers - in fact, a majority of our customers have already migrated to the new release," remarks Alex Mackenzie, Vice President of Product Management at Exa. "Jaguar Land Rover is one of those visionary vehicle manufacturers that sees the benefit of having one suite of software handling multiple aspects of analysis on the vehicle--it's gratifying to see them reap the benefits."
About PowerFLOW 4.1
The latest release expands on the improvements of the successful PowerFLOW 4.0 suite already known for its accuracy, reliability and ability to simulate extremely complex cases. PowerFLOW 4.1 has the additional benefits of:

Significantly Improved Simulation Performance: PowerFLOW 4.1 is 20-40% faster, allowing customers to engineer and optimize products in shorter timeframes while saving money
Expanded Thermal Management Capabilities: In order to meet the growing demands of Exa's customers for thermal analysis, PowerTHERM now offers a passenger comfort model to assess skin temperature; PowerCOOL includes a new condenser model for heat exchanger simulations and new functionality for interior ducting applications
Faster Throughput, Analysis: With this release, Exa's PowerVIZ has direct movie file generation capabilities for results visualization and native 64-bit support for faster post-processing. This, combined with more efficient case setup utilities in PowerFLOW, reduced memory and disk space requirements for aeroacoustic analysis, makes this latest release faster, easier-to-use and more effective for sharing results.
About Exa Corporation
Exa Corporation develops, markets, and supports a suite CAE and CFD simulation software tools including PowerFLOW, PowerCLAY®, PowerWRAP®, PowerVIZ, PowerSPECTRUM®, PowerCOOL and PowerTHERM along with professional engineering consulting services. Exa's products and services enable engineers to create competitive designs, while shortening product design cycles, and speeding time-to-market. A partial customer list includes: AGCO, Audi, BMW, Chrysler, Ford, Hyundai, Kenworth, MAN, Nissan, Peterbilt, Renault, Scania, Toyota, Volkswagen, and Volvo Trucks.
Founded in 1991, the company is headquartered at 55 Network Drive, Burlington, MA, USA 01803. Tel: 1.781.676.8500; Fax: 1.781.676.8599
###