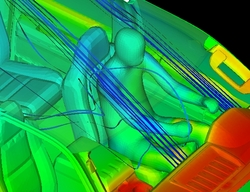 With the new case setup features, thermal engineers will find preparing coupled PowerTHERM® simulations to be dramatically faster and easier—we've significantly streamlined the process.
Burlington, MA (PRWEB) September 24, 2010
Exa® Corporation, a global innovator of fluids simulation (CAE/CFD) solutions for product engineering, today announced the release of PowerFLOW 4.3, the latest version of its engineering simulation product suite. The PowerFLOW 4.3 suite offers improvements in accuracy and user productivity as well as new features that simplify the setup of complex thermal simulations. This release extends thermal simulation capabilities to include transient solid conduction, multi-pass heat exchanger simulation and enhanced human comfort models.
Thermal-related enhancements in this PowerFLOW 4.3 suite release focus on productivity and accuracy. "With the new case setup features, thermal engineers will find preparing coupled PowerTHERM® simulations to be dramatically faster and easier--we've significantly streamlined the process," commented Charles Alexander, Director, Product Management for Simulation Products. "PowerFLOW's unique ability to simulate the real-world transient behavior of airflow, combined with PowerTHERM's superior conduction and radiation thermal capabilities, make it the only solution for thermal engineers trying to accurately evaluate temperature fluctuations in solids."
"Exa is committed to enabling rapid early stage product simulation and performance," remarked Alex Mackenzie, VP of Product Management and Marketing. "PowerFLOW 4.3 improves user productivity through product integration and process automation, resulting in reliable, accurate results--fast."
4.3 SUITE HIGHLIGHTS

Faster coupling set-up between PowerFLOW and PowerTHERM: Exa's 4.3 release streamlines and automates simulation setup of coupled aero/thermal problems, freeing engineers from the risks of human error in tedious and time-consuming case preparation tasks, and thus reducing time-to-results.
Improved simulation of the heat transfer in solids (transient and steady state): Volume element support in PowerTHERM extends inherently time-accurate PowerFLOW results to include conduction inside solid objects.
Easier to use human comfort simulation (Fiala and Berkeley models provided): Improvements ease the portability of models across computer systems and offers multiple human model options with distinct sizes and physiologies.
Support for multi-pass heat exchangers: Improved heat exchanger modeling allows simulation of radiators and charge-air coolers with up to six passes, or simulation of two-pass radiators or charge-air coolers with an unequal split between the two passes.
About Exa Corporation
Exa Corporation develops, markets, and supports a suite CAE and CFD simulation software tools including PowerFLOW®, PowerDELTA®, PowerCLAY®, PowerVIZ®, PowerSPECTRUM®, PowerACOUSTICS™, PowerCOOL® and PowerTHERM® along with professional engineering consulting services. Exa's products and services enable engineers to create competitive designs, while shortening product design cycles, and speeding time-to-market. A partial customer list includes: AGCO, BMW, Chrysler, Ford, Hyundai, Kenworth, MAN, Nissan, Peterbilt, Renault, Scania, Toyota, Volkswagen, and Volvo Trucks.
Founded in 1991, the company is headquartered at 55 Network Drive, Burlington, MA, USA 01803
###