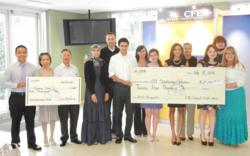 Lake Mary, FL (PRWEB) August 29, 2012
CFE Federal Credit Union awarded $29,000 in scholarships to college-bound students during a recent event held at the credit union. Seven recent high school graduates from Central Florida were recognized by CFE President and CEO Joseph A. Melbourne, Jr., Board Chair Mary Lynn Williams, along with senior management and the marketing team.
Six of the graduates were each awarded $4,000 scholarships over a four year period and were given their first installment check for $1,000. These lucky students were randomly selected from the 330 applications submitted by members. Currently, CFE has 24 students in its college scholarship program and awards each $1,000 a year for a total scholarship donation of $24,000 annually. CFE scholarship winners for 2012 are Bianca Feazell, Yasin Guergaf, Casandra Hill, Zachary Lane, Emily Murray, and Chelsea Thompson.
One graduate was awarded a grant through the CFE & ACCEL/Exchange College Grant Program.CFE was selected by the ACCEL/Exchange Network as one of 10 credit unions nationwide to receive $5,000 to award to a local graduating senior. Over 80 Central Florida seniors applied for the grant which was based on high academic achievement, a written essay, financial need, and participation in school programs, such as sports, community volunteerism, and enrichment activities. The student selected to receive the 2012 CFE & ACCEL/Exchange Grant was Quang Doan from Orange County Public Schools.
CFE Federal Credit Union was founded in 1937 and currently serves more than 122,000 members. As of July 31, 2012, CFE had total assets of over $1.342 billion and deposits of over $1.118 billion. Membership eligibility includes anyone who lives, works, attends school, volunteers, or worships in the Orange, Osceola, Lake or Seminole Counties of Florida. Businesses and other legal entities may join as well. The credit union serves its members at 19 full service branches, 4 high school branches, 41 ATM locations and through 24-hour Internet access. CFE is recognized as a Top 20 in The Orlando Sentinel's Top 100 Companies for Working Families for 2011.
###