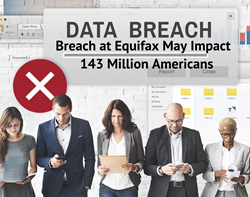 "Anyone who has a credit card has likely been compromised" "We all need to take steps to protect ourselves"
Boca Raton Florida (PRWEB) September 13, 2017
The Center for Information Security Awareness – CFISA (cfisa.org), a cyber security training group, is offering vitally important tips for the 143 million Americans whose sensitive personal information was stolen in the recent Equifax data breach.
The Equifax breach alone affects nearly half of all Americans, and the many other recent corporate data breaches extend this vulnerability to most American families far into the future. All businesses and individuals need to immediately take action against criminal identity theft by increasing their online security awareness of phishing, ransomware, and dangers of social media exposure.
"Anyone who has a credit card has likely been compromised," according to Michael Levin, CEO of CFISA "On our website, we are providing five recommendations to protect yourself immediately. Everyone needs to take some action," Levin advised.
Terrorist groups, nation states and organized crime groups use this type of sensitive personal information to victimize U.S. citizens and even potentially attack our critical infrastructure. Everyone in the U.S. now has a personal reason to take steps to protect against cyber-crime and identity theft.
CFISA is dedicated to providing cybersecurity training online or in person for multiple levels starting with the basics through more advanced IoT strategies and protecting critical infrastructure. Says Levin, "we are providing 5 key recommendations for individuals to take immediate actions to keep their identity safe. They can simply go to our website and read the article here: CFISA Blog Article on Equifax Data Breach.
Businesses can also find out how to be compliant, safe, and smart with security awareness training programs for all employees.
CFISA has a wide variety of customers using this valuable training. These include Federal, State and local government agencies; colleges and universities; and hundreds of small, medium and large enterprises and financial institutions.
Michael Levin is a cyber security expert who spent over twenty-two years in the U.S. Secret Service protecting Presidents and other heads of State. Levin retired from the Department of Homeland Security as the Deputy Director of the National Cyber Security Division and investigated hundreds of cyber-crime cases during his law enforcement career.
About the Center for Information Security Awareness:
The Center for Information Security Awareness (https://www.cfisa.org) was formed in 2007 by a group of leading security experts and academics to explore more effective ways to increase security awareness among a number of audiences including consumers, employees, small business owners and law enforcement.