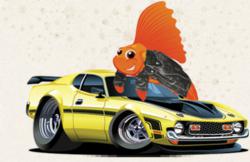 There are tools available to consumers, but it is up to them to take advantage—and I hope they do.
Washington, D.C. (PRWEB) October 24, 2012
RoadFish.com men's lifestyle and finance magazine today issues their support of the Consumer Financial Protection Bureau's (CFPB) newest addition to their consumer services, a credit report complaint line which they just launched Monday, October 22nd. RoadFish.com's take on this may help guide consumers who suspect erroneous data on their credit reports toward the proper outlets to correct this information.
Peter Schroeder of congressional newspaper The Hill recently reported that the CFPB announced very recently that consumers are now going to be able to reach out to them with any problems surrounding their creditreport. These issues may include reported data that they suspect to be erroneous, or any problems they may come up against with a credit reporting agency. Schroeder's article includes a quote from CFPB Directed Richard Cordray, who states, "Credit reporting companies exert great influence over the lives of consumers. They help determine eligibility for loans, housing and sometimes jobs. Consumers need an avenue of recourse when they feel they have been wronged."
RoadFish.com applauds CFPB's efforts and encourages consumers to take advantage of this new outlet. RoadFish.com's Senior staff writer is quoted as saying, "I think it is wonderful that the Consumer Financial Protection Bureau has created this channel for consumers to easily report and hopefully correct errors on their credit reports. After all, the credit bureaus are comprised of human beings capable of mistakes, and erroneous data on credit reports can happen. The key is for consumers to be checking their reports frequently enough so that they can catch a problem and report it with enough time so that it does not negatively impact their score. There are tools available to consumers, but it is up to them to take advantage—and I hope they do."
On October 22nd, Scott Pluta, the Assistant Director for the Office of Consumer Response at the CFPB, wrote on the company's website, "In the past year we have taken big steps toward making consumer financial markets work better for consumers and responsible companies, and consumer complaints have played a major role. We began with credit card complaints in July of 2011, and as time passed, we added complaints about mortgages, bank accounts and services, private student loans, vehicle, and other consumer loans. We are proud to announce that, starting today, we are accepting complaints about credit reports." Pluta states that individual-level assistance will be available for everything from inaccurate information on a credit report, to problems with identity protection or credit monitoring services.
CFPB's website features a place for consumers to submit online complaints and check the status of an existing complaint, as well as confidentially report any wrongdoing observed. CFPB is a federal bureau whose website states that its main goal is to aid Americans with consumer financial products and services, such as mortgages, credit cards, and credit reports.
About RoadFish.com
RoadFish.com men's lifestyle and finance magazine is a well-read online magazine whose articles span topics of travel, internet dating advice, and men's luxury items. RoadFish.com is intended for men in their 30's and 40's who have already achieved personal life goals and are working towards a new personal or professional goal. RoadFish.com's magazine features stories on nice clothing, hip vacations, hot chicks, and financial articles about how to improve one's credit score. RoadFish.com is owned and operated by Purpose Inc.