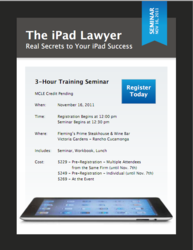 The seminar easily teaches lawyers how to customize an iPad to fit your work style
Rancho Cucamonga, CA (PRWEB) November 09, 2011
A new seminar titled, "The iPad Lawyer: Real Secrets for Your iPad Success" shows lawyers how to effectively use the iPad in a legal environment. The seminar presented by Scott Grossberg of Cihigoyenetche, Grossberg & Clouse (CG&C) takes place November 16 from 12:30 to 4 p.m. at Fleming's Prime Steakhouse & Wine Bar in Victoria Gardens.
"iPads are increasingly being used in courtrooms, mediation sessions, boardrooms and client meetings. Naturally, attorneys have to be able to understand and comfortably use this technology if they want to be massively successful," says Grossberg.
More and more, attorneys are using iPads to keep pace with clients. According to the Wall Street Journal, at least 65% of Fortune 100 companies are using iPads to conduct business. It's either learn how to use an iPad or lose clients to more tech-savvy attorneys.
Grossberg's seminar is designed to help attorneys keep their competitive edge.
"The seminar easily teaches you how to customize an iPad to fit your work style, providing you with the powerful techniques and apps to make you more productive and more profitable," Grossberg says.
During the seminar, participants will learn how simple it is to access information, how to store legal documents, evidence and contact info, the best apps to use and much more. Both advanced iPad users as well as those with little to no iPad experience can benefit.
In addition to the seminar, a full lunch will be provided by Fleming's, and participants will be able to visit the amazingly redone Apple Store, Victoria Gardens where the Apple Store Business Team will provide a guided tour and further, personalized attention.
People can pre-register for the seminar at https://echofactory.wufoo.com/forms/the-ipad-lawyer-registration/. The cost, including seminar, training workbook and lunch, is $249. Registration at the event begins at 12 p.m. and is $269.
About CG&C:
Cihigoyenetche, Grossberg & Clouse is one of the best conflict resolution and civil defense firms in the Inland Empire. As an AV-rated firm, CG&C employs some of California's most skilled litigators, mediators and business law practitioners.
Located in Rancho Cucamonga, Calif., the firm focuses on litigation, environmental law and social media liability matters. CG&C's clients are made up of individuals, private companies and government agencies including over 30 Southern California cities.
Web site: http://www.cgclaw.com
# # #