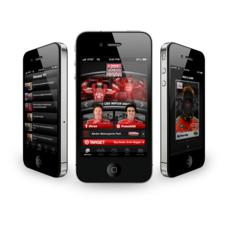 We feel we have a strong track record of innovation and success both on and off the track, and SapientNitro has been a great partner in helping us translate and transfer that to a mobile device to continue driving the limits of the racing experience.
Concord, N.C. (PRWEB) April 27, 2012
Chip Ganassi Racing Teams (CGRT) and SapientNitroSM, part of Sapient (NASDAQ: SAPE), today announced the re-launch of their updated mobile app, which was one of the first mobile applications for the high-velocity world of racing. The application brings fans updated driver and event information, and exclusive content in one centralized and expansive mobile experience, bringing to life the rich heritage and legendary success of CGRT.
The Chip Ganassi Racing Teams mobile app provides up-to-date, behind-the-scenes video content straight from the Team's official YouTube Channel Ganassi TV, a one-stop shop for all at-track social media updates from all eight drivers and four teams, as well as a FanCam, which is an interactive element that allows fans to be creative with CGRT images. The unique mobile application conveys the high-octane rush of the racing experience for a team that competes at the highest levels in three touring series – the NASCAR Sprint Cup Series, the IZOD IndyCar Series and the Rolex GRAND-AM Series.
Click to download the Chip Ganassi Racing Teams mobile application
Notes of Interest
App Summary: To bring fans the full spectrum of the racing experience, SapientNitro spent much time at the racetrack to better understand everything about what the race fan wants to experience. From being down in the pits with all the sounds and smells of racing to conversations with drivers, crew members, support personnel, and even interviewing dyed-in-the-wool fans. With this enhanced knowledge of the racing world, SapientNitro and Chip Ganassi Racing Teams worked closely together to craft an easy-to-use mobile application that provide a valuable brand experience for fans and partners alike.
Key App Features:

Compelling and relevant information on all of the Chip Ganassi Racing Teams' drivers including bios, stats, photos, and racing resumes
Up-to-date social media content from Chip Ganassi Racing Teams and its drivers via Twitter
Timely video on Ganassi TV and photography from race events, interviews, and behind-the-scenes exclusives
Upcoming and archived race event details including series' calendars, event dates and locales with notifications
Current driver statistics and points standings after every race
Updated race data for each driver and overall post-race results
Engaging fan interactions, including promotions and giveaways, racing trivia with leader boards and scoring, and FanCam photography
Engaging sponsor interactions promoting the brand, store location finder, and promotions
About SapientNitro: SapientNitroSM, part of Sapient®, is an integrated marketing and technology services firm. We create and engineer highly relevant experiences that accelerate business growth and fuel brand advocacy for our clients. By combining multi-channel marketing, multi-channel commerce, and the technology that binds them, we influence customer behavior across the spectrum of content, communication and commerce channels, resulting in deeper, more meaningful relationships between customers and brands. SapientNitro services global leaders such as Chrysler, Citi, The Coca-Cola Company, Singapore Airlines, Target and Vodafone through our operations in North America, Europe, and Asia-Pacific. For more information, visit http://www.sapientnitro.com or follow us on Twitter @sapientnitro.
About Chip Ganassi Racing Teams: Chip Ganassi created his own one-car IndyCar team in 1990 and established a partnership with sponsor, Target. Today, Chip Ganassi Racing Teams includes four entries in the IZOD IndyCar Series, two in the NASCAR Sprint Cup Series, and one Daytona Prototype in the GRAND-AM Rolex Sports Cars Series. Overall his teams have 14 championships and 145 victories, including three Indianapolis 500s, a Daytona 500, a Brickyard 400 and four Rolex 24 At Daytonas. Ganassi boasts state-of-the-art race shop facilities in Indianapolis, Brownsburg, Ind. and Concord, N.C., with a corporate office in Pittsburgh, Penn.
Quote Board:
Michael Leonard, Vice President and General Manager Mobile Experience Studios, SapientNitro: "We're excited to continue our strategic partnership with Chip Ganassi Racing Teams, leveraging an impressive legacy to engage fans with their brand through an innovative, visceral mobile experience. More than ever fans want to connect through multiple digital channels and we think fans will be captivated with all the ways they can stay connected to their favorite teams and drivers throughout the 2012 racing season."
Steve Lauletta, President, Chip Ganassi Racing Teams: "The re-launch of our mobile app is exciting because it allows us to create better experiences and engage with both our partners and fans as we continue to expand our presence in the digital space. We're committed to providing unique and exclusive content to our supporters, while connecting all our drivers and teams across three different series through our digital and social platforms. We feel we have a strong track record of innovation and success both on and off the track, and SapientNitro has been a great partner in helping us translate and transfer that to a mobile device to continue driving the limits of the racing experience."
For more information log onto chipganassiracing.com
Follow us on Twitter @CGRTeams, @TCGRTeams and @EGRTeams