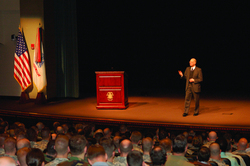 exchanges like this are tremendously important since they lead to better understanding between our respective agencies.
Fort Leavenworth, KS (PRWEB) March 10, 2008
"We've made progress at coordinating civilian-military operations in Afghanistan and Iraq but much more needs to be done," said Ambassador Ronald E. Neumann, president of the American Academy of Diplomacy. Neumann, a retired diplomat who most recently served as Ambassador to Afghanistan from July 2005 to April 2007, provided this observation and many more in a lecture to students in the U.S. Army Command and General Staff College on March 5.
The Command and General Staff College Foundation, in concert with the needs and requirements of the U.S. Army Command and General Staff College, has come together with DACOR (Diplomatic and Consular Officers, Retired) to sponsor this series of lectures on foreign policy and diplomacy for the CGSC class of 2008. DACOR selected Neumann to serve as the first DACOR-CGSC Foundation Distinguished Professor of Foreign Policy and Diplomacy.
Neumann's lecture, "Realities of the Interagency," focused on the issues that the military and diplomatic services face in a deployed environment while striving to serve our national security interests. He will deliver two more lectures before the class graduates in December.
"The complexities of coordinating the various agencies of the federal government are a difficult task because other than DoD, the other agencies are not staffed or funded for repetitive deployments," Ambassador Neumann said. He also noted that although the State and Department of Defense cultures are different, "exchanges like this are tremendously important since they lead to better understanding between our respective agencies."
Neumann's lectures have been designed in cooperation with the CGSC faculty and are scheduled to make specific contributions to the curriculum. One of the CGSC Foundation trustees, Ambassador Edward Marks, a retired ambassador himself, was the catalyst for getting the program off the ground.
"Each of these lectures will enhance the CGSC education model of teaching military officers 'how,' not 'what,' to think," said Marks. "In current operations around the world traditional military solutions have given way to an interagency approach where all of the capabilities of our government are applied. The CGSC Foundation is truly honored to have this opportunity to support the education of CGSC students with a program such as this."
The Diplomatic and Consular Officers, Retired (DACOR) is a philanthropic organization that conducts advocacy programs for a strong, professional Foreign Service and for an active American leadership role in the world of the 21st century. DACOR membership comprises retired, former, and active duty Foreign Service Officers and others who have served at home or abroad in positions related to the conduct of foreign affairs. The American Academy for Diplomacy is an organization of former senior diplomats dedicated to strengthening diplomacy.
The CGSC Foundation was established December 28, 2005 as a tax-exempt, non-profit private corporation. Programs supported by the Foundation include awards for CGSC students and faculty, support for symposia, conferences, lectures, and community outreach activities that help connect the American people to their Army. For more information about the Foundation and how to become involved, visit http://www.cgscfoundation.org.
###