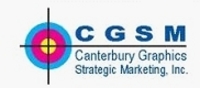 Integrating Old and New Media Opportunities
Wilton, CT (PRWEB) June 3, 2008
"How can direct marketers mix old media and new social media tools?" That's one of the key questions an expert panel will discuss next week during the "Integrating Old and New Media Opportunities" session at the DM Days 2008 event in the Jacob K. Javits Center on June 10, 2008. The panel will be hosted by Mark Kolier, president of Canterbury Graphics Strategic Marketing (http://www.CGSM.com), the direct-marketing agency he founded 11 years ago. More information is available from http://www.the-dma.org/conferences/dmdays08/.
The "Integrating Old and New Media Opportunities" panelists are among the industry's top marketing minds:

Steven Brita - Sr. Director, Internet Marketing, Publishers Clearinghouse
Laura Gehringer - Director of Marketing & Advertising, Huntington Learning Center
Mickey Alam Khan - Executive Editor, Mobile Marketer.com
Chris Winfield - President and Founder, 10e20
During the session, they will discuss some of today's hottest topics of interest to the marketing community, including:

What continues to work in 'old media'?
How do you know what is the right mix?
Where have new media applications been utilized to their greatest advantage?
Should blogging be a regular part of the marketing mix?
How are companies dealing with customers being in charge?
Is mobile marketing going to be king?
"We're excited to present such a stellar group during DM Days in New York," said Kolier. "Attendees should expect to have the status quo challenged. This will be one of the most talked about seminars this year."
Want to know ["10 Things Every Company Should be Doing in their Marketing this Year"?
About CGSM
CGSM is a privately held direct marketing agency specializing in the marketing strategy, design and production of email campaigns, direct mail-packages and inserts. Its production skills combined with a focus on data analysis and modeling make it possible for CGSM to offer a unique approach to customer acquisition and retention that takes into account all the complex details of a direct marketing campaign without ever losing sight of the overall business objectives. For more information, please visit http://www.cgsm.com
To schedule an interview, please contact Jill Cirigliano of Communication Strategy Group by email at jcirigliano @ gocsg.com.
Media Contact:
Jill Cirigliano, Communication Strategy Group for CGSM
jcirigliano @ gocsg.com
631-239-6335
http://www.gocsg.com
###