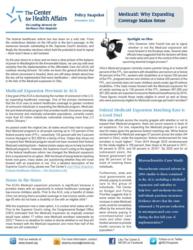 Columbus, Ohio (PRWEB) January 09, 2013
On Dec. 4, members of the Northeast Ohio Medicaid Expansion Coalition (NEOMEC) traveled to Columbus to advocate for a full Medicaid expansion in Ohio. The group, composed of a wide range of community organizations including The Center for Health Affairs, met with 15 legislators and staff members representing Northeast Ohio and the leadership of the Ohio General Assembly in response to a request from Greg Moody, director of the Ohio Office of Health Transformation who met with the group in late October.
In general, lawmakers were open to considering support for Medicaid expansion in Ohio and suggested that the number of legislators who would simply not consider support was small; however, many indicated that they would need to see more data before making up their minds. Several lawmakers also suggested that backing from the business community would be helpful in garnering additional support.
Though the legislators were generally open to discussion, they did express some concerns about Medicaid expansion in Ohio. The most often cited concerns dealt with the potential costs associated with expansion. Some voiced concerns about the future of the federal match, which starts at 100 percent in 2014 and declines incrementally until it reaches 90 percent in 2020, stating that though it is supposed to remain at 90 percent after 2020, they expected that it would drop much lower in actuality. Moreover, even if the match remains at 90 percent, legislators wondered how the state would find the funds to pay for the remaining 10 percent. Others indicated that they were skeptical that greater access to care would lead to cost containment.
The Northeast Ohio Medicaid Expansion Coalition is a group of community organizations, spearheaded by Greater Cleveland Congregations, working together to expand Medicaid to 138 percent of the federal poverty level. Formed shortly after the Supreme Court decision on health reform, which changed the Medicaid expansion provision to an option for states rather than a requirement, NEOMEC is working on a variety of advocacy strategies to help key stakeholders understand how crucial Medicaid expansion is in Northeast Ohio.
For additional information on Medicaid expansion in Ohio, click the file on the right to download The Center's November policy snapshot, Medicaid: Why Expanding Coverage Makes Sense.
---
The Center for Health Affairs is the leading advocate for Northeast Ohio hospitals, serving those organizations and others through a variety of advocacy and business management services. The Center also works to inform the public about issues that affect the delivery of health care. Formed by a visionary group of hospital leaders 96 years ago, The Center continues to operate on the principle that by working together hospitals can ensure the availability and accessibility of health care services. For more on The Center, go to http://www.chanet.org.