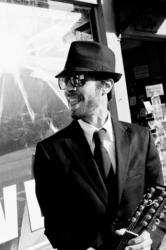 Miami, FL (PRWEB) August 29, 2012
Hip-hop artist CHACHILLIE has released the video for the single " Rome Is Burning." The project is presented by Coast 2 Coast Video Distribution and is now available on YouTube for download and streaming. The video is produced by Todd Wolfe whose feature film "The Streets" starring Meek Mill premiered on BET last night. "Rome Is Burning" follows CHACHILLIE's award winning "5150" video and "Through the Veil" which he directed.
CHACHILLIE wrote the song "Rome Is Burning" to discuss all the ways individuals are distracted and disempowered from social responsibility. The song points out spiritual and cultural references that give listeners his views on what changes need to be made for humanity to survive. So far the video has received a lot of buzz with over 150,000 views and 400 comments on YouTube.
Charles Matthew Stewart aka CHACHILLIE is a music artist, producer, and filmmaker. Growing up in Memphis, he was exposed to many different music sounds which inspired him. By the age of nine, he started to write and record his own music which lead to him producing beats at 14. After going through several mishaps in his life, he realized that making music was his true passion and began to actively pursue a career in the music industry. He spent a lot of time traveling the east coast honing his craft and working with various artists. At the end of 2010, he started working with Ben Gradison at D-Street Studios. The two share a passion for making the world a better place by using music.
Currently CHACHILLIE's music can be heard on both college and mainstream radio stations around the country. He is independently published by D-Street Studios and has recently secured a distribution deal with ECMD/Fontana/Universal. His songs "5150" and "Rome Is Burning" have been released through the agreement and the upcoming album "Goosebumps on Pangea will be released through this partnership too.
"Charles Matthew Stewart shows an immense display of artistic value lost in the Y generation. This documentary shows the last of a dying breed as "Chachillie" brings intense energy and versatility from all perspectives. Truly a must see,'" says Ryan Katz, Talent Scout at Island Def Jam about CHACHILLIE's EPK Documentary.
Keep up with all CHACHILLIE music, tours and updates by visiting his website.
About Coast 2 Coast Mixtapes
Coast 2 Coast Mixtapes are the most widely distributed mixtapes in the world, with over 100 million downloads/plays generated by over 200 volumes officially hosted by major artists. Coast 2 Coast has a solid reach in the new music industry with a digital magazine, DJ coalition, industry tips blog, yearly convention, and more. Coast 2 Coast Mixtapes represents a unique opportunity for artists of all urban genres, from major to indie. For more information, visit http://www.coast2coastmixtapes.com.
###