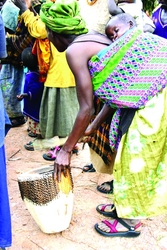 Buy One, Get One Tree
Chattanooga, TN (PRWEB) July 19, 2008
Rock/Creek and Chaco today invites customers to take a step against poverty. Customers may trade old but usable clean shoes for a 20% discount on a new pair of Chaco footwear. The trade becomes a donation as Rock/Creek and Chaco will send the shoes to third-world communities in need. The shoes can be donated online or in any of Rock/Creek's Chattanooga, TN stores. Customers can donate any brand or model of shoe, as long as it is a clean, usable, and well constructed piece of footwear. Online instructions for donation can be found on Rock/Creek's Chaco Sandals Recycle Program Donation Page.
The program began July 18th and continues until August 2nd.
This year marks the forth consecutive year of the Chaco recycling program. Since the start of the program in 2004, Chaco and the company's recycling program partners have distributed nearly 15,000 pairs of sandals to poverty stricken areas of the globe. Rock/Creek joined the recycling partnership in 2005 and since then the store's loyal customers have donated more than 320 pairs of old shoes. This support makes Rock/Creek one of Chaco's top donating partners.
"We're pleased that Rock/Creek will again apply their passion and commitment to our recycled shoe promotion. Our joint effort to provide shoes to those in need can and has made a difference to thousands of people." said Ann Ellinger, Sr. Marketing Coordinator for Chaco.
Footwear donated from the 2008 campaign will support the elimination of Hookworm anemia in Sub-Saharan African villages. It has been estimated that as many as 1 in 3 people in Sub-Saharan Africa are affected by Hookworm anemia. The hookworm, a soil-born parasite, enters through bare feet and resides in the small intestine of its host. If the parasitic condition is left untreated, severe anemia and malnutrition will result. The condition will slowly advance until a blood transfusion becomes necessary for the infective individual's survival. In developing nations the cost of transfusion is often prohibitive and risky. Prevention, through the use of protective footwear, has been proven to prevent hookworm anemia. Through the 2007 Chaco recycle program an entire village in Uganda was outfitted with shoes--a simple solution that completely eliminated hookworm anemia in the village.
In previous years the program has supported communities in India and Nepal. Chaco's program has also impacted communities closer to home. After Hurricane Rita devastated the Gulf Coast region in September 2005, Chaco and participating retailers collected over 400 pairs of footwear and distributed them to displaced hurricane victims in affected areas of Louisiana.
"Sustainability typically is defined as the long term balance between the environment, the economy and the needs of society. By offering customers the ability to recycle old footwear through donations to developing countries, and purchase a new pair of Chacos at a discounted price, the program touches on all three corners of sustainability. This is certainly a model program for all companies considering sustainability initiatives," said Brad McAllister, Sustainability Adviser for Rock/Creek.
Rock/Creek and Chaco have partnered several times in the past on business oriented sustainability initiatives. Last year Chaco won the inaugural Rock/Creek Sustainability Award . In April, Rock/Creek was approached by Chaco and the Arbor Day Foundation to run a special tree planting campaign. During National Arbor Day weekend, a tree was donated for every pair of Chacos purchased at Rock/Creek. Over 300 trees were planted through the partnership. The promotion, dubbed "Buy One, Get One Tree," ultimately supported the planting of over 800 trees.
Additionally, Rock/Creek and Chaco are currently offering limited edition Chaco Z2 sandals. $20 from the purchase of each pair of Chacos goes to support low impact, responsible climbing access through donation to the Southeastern Climbers Coalition (SCC). To date, the sandal purchase program has raised over $20,000 for climbing access, including a $10,000 donation to the SCC in 2007. The limited edition sandals can be purchased at any one of Rock/Creek's Chattanooga stores or online. More information on the Limited Edition Chacos is available online.
About Rock/Creek:
Rock/Creek, member of the Grassroots Outdoor Alliance, is an independent specialty outdoor retailer with over two decades of experience in the Southeast. Along with its online shops, RockCreek.com and ClimbingGear.com, Rock/Creek provides quality outdoor clothing and gear for a host of activities including kayaking, rock climbing, camping, hiking, trail running, travel, and everyday living. Rock/Creek is committed to fostering positive change. For this reason, it uses outdoor retail as a platform to encourage outdoor recreation and environmental stewardship and to improve public access to the backcountry. Rock/Creek supports worthy nonprofits such as the Southeastern Climbers' Coalition and the Wilderness Trail Running Association.
###