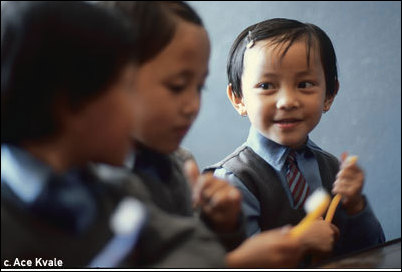 Chattanooga, TN (PRWEB) July 14, 2006
Rock/Creek Outfitters and footwear manufacturer, Chaco, Inc., announce this week's launch of the Chaco Recycled Shoe Program. Rock/Creek, a Chattanooga-based outdoor retailer, is inviting customers to trade in any used (but clean) pair of shoes, boots, or sandals for a 20% discount on a new pair of Chacos. The initiative will last two weeks and will be available to the public through Rock/Creek's physical and online stores. The shoes that are collected will be cleaned up and distributed to those in need in other parts of the world. Chaco launched the Recycle Program in 2005, and with the help of retailers like Rock/Creek Outfitters, has managed to distribute over 1,500 lightly worn pairs of shoes.
Chaco Sandals has partnered with the dZi Foundation to deliver the collected footwear to people in high mountain regions of the Himalayas. The foundation promotes the education, health, culture and welfare of indigenous mountain communities in the Himalayan regions of Ladakh, Nepal and Sikkim. After receiving the shoes, Chaco will clean them and send them to the dZi foundation, which in turn will distribute them through schools, monasteries, and safe houses that the organization supports.
Chaco's efforts have also had an impact on communities closer to home. After hurricane Rita ripped through the Gulf Coast region in September 2005, Chaco partnered with a Baton Rouge retailer, collecting over 400 pairs of recycled footwear to distribute to displaced hurricane victims in affected areas of Louisiana.
The Chaco Recycled Shoe Program will launch at all Rock/Creek Outfitters locations, including the retailer's websites, rockcreek.com and climbinggear.com, starting Friday, July 14 and will run through Saturday, July 29.
Marvin Webb, owner of Rock/Creek Outfitters, said, "The program is a good fit for Rock/Creek and Chaco, two companies who are both committed to sustainability. Not only are customers' old shoes diverted from landfills, but they also provide extra miles for people who need them. We're proud to take part in the initiative."
For additional information on the Chaco Recycled Shoe Program, please visit http://www.rockcreek.com/chaco.
About Rock/Creek Outfitters:
Rock/Creek Outfitters is a specialty outdoor retailer with over two decades of experience in the Southeast. Along with its online shops, RockCreek.com and ClimbingGear.com, Rock/Creek Outfitters provides quality outdoor clothing and gear for a host of activities including kayaking, rock climbing, camping, hiking, trail running, and adventure racing. Rock/Creek is committed to making a positive impact on the environment. For this reason, it uses outdoor retail as a platform to encourage outdoor recreation and environmental stewardship and to improve access to the backcountry.
About Chaco:
While many businesses focus solely on profits, Chaco seeks to follow the three steppingstones to sustainability: profits, people and the planet. They strive to minimize their environmental impact, better the lives of the people with whom they work and maintain healthy profitability so they can keep their initiatives moving forward. To further support their sustainability initiatives, Chaco donates three percent of after-tax profits to organizations dedicated to caring for people and the planet. They currently support the Conservation Alliance, the Sierra Club, American Whitewater, Leave No Trace, the Southern Utah Wilderness Alliance and many others.
# # #