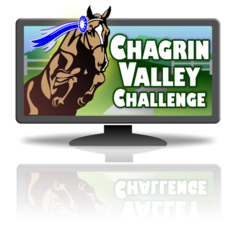 Reduce your carbon hoof print, compete online in the Chagrin Valley Challenge!
Gates Mills, Ohio (PRWEB) September 24, 2011
The Chagrin Valley Challenge, the nation's first online horse show will open entries this week on HorseShow.com. Offering 14 Hunter Divisions and two Breeding Sections, the hunter jumper horse show allows equestrians to compete through uploaded video against riders from across the country.
A total of $12,000 in prize money will be awarded in the Chagrin Valley Challenge, from beginner cross-rails classes through advanced 3'6" jumping classes. Entry fees for each class are priced at $2. Competitors can register their horse online now through HorseShow.com and receive their assigned jumping courses and videotaping directives. Every uploaded video entry will receive written feedback and a score from a USEF (United States Equestrian Assocation) "R" rated judge.
Entries for the Chagrin Valley Challenge online horse show can be uploaded to HorseShow.com starting Wednesday, September 28 through Sunday, October 16, 2011. Each class will have ribbons awarded through sixth place. As a bonus, additional prize money will be awarded to the Champion and Reserve Champion in each Hunter Division.
According to trainer Keeley Gogul, co-chair of the Chagrin Valley Challenge, "Competing online allows hunter riders from around the country to join the Chagrin Valley Challenge and opens doors for new riders. Showing costs for traditional local and out-of-town competitions often discourage many talented equestrians. By reducing those costs and resource barriers with the Chagrin Valley Challenge, more hunter riders will be able to compete, and, unlike traditional hunter competitions, receive feedback on their jumping rounds from the competition's "R" judges.
Judging results for all 48 Hunter and Breeding classes will be announced online on Monday, October 24. In addition to class winners and champions, special awards will be presented to the Best Rider from the Junior, Amateur and Professional entries. The Leading Trainer will receive a $300 cash award as well.
For updates on this unique equestrian competition on social media outlets, follow us on Twitter at http://www.Twitter.com/ChagValleyChall or on Facebook at http://www.Facebook.com/ChagrinValleyChallenge.com.
ABOUT THE CHAGRIN VALLEY CHALLENGE
When early spring floods forced the cancellation of this fall's 102nd Annual Chagrin Valley Stables Horse Show, the Chagrin Valley Challenge was born. The Chagrin Valley Challenge offers equestrians a chance to compete against riders nationwide without having to leave their own stable. Exhibitors have their performances videotaped and uploaded to a secure online platform where they are scored by a USEF licensed judge. Entries in the 2011 Chagrin Valley Challenge will be competing for prize money totaling $12,000 in 48 Hunter and Breeding classes. To learn more, go to http://www.ChagrinValleyChallenge.com.
ABOUT HORSESHOW.COM
As the online host of the Chagrin Valley Challenge, HorseShow.com offers a revolutionary technology platform for riders to upload video, and judges to assess and score a horse's performance. In addition, HorseShow.com's encrypted security offers a reliable e-commerce platform to manage entry transactions. To learn more about HorseShow.com's online features, visit http://www.HorseShow.com.
###