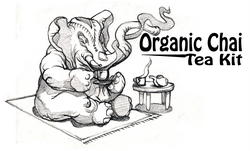 Grounded Organic Coffee & Tea House, in the West Village of New York City has been serving up their homemade chai tea for over 5 years. We are proud to be able to offer their quality ingredients for making the
Princeton, NJ (PRWEB) October 30, 2008
Online teashop, basictea.com & Grounded Organic Coffee & Tea House in N.Y.C. have announced the release of their 100% organic do-it-yourself Chai Tea Kit.
According to basictea.com founder Mark Greenberg, "Grounded Organic Coffee & Tea House, in the West Village of New York City has been serving up their homemade chai tea for over 5 years. We are proud to be able to offer their quality ingredients for making the "perfect" Chai drink. Our kits will be sold exclusively online at basictea.com and will include everything you need to make your own tasty Chai tea from scratch! You can spice it up or serve it mellow, the choice is yours. This is the perfect kit for cooks and Chai tea lovers alike."
Kit includes 100% organic:
Cassia Cinnamon Sticks
Chinese Ginger Root
Cardamom Pods
Whole Cloves
Ground Black Pepper
Anise Star Pods
Robust blend of top quality organic Indian black teas
The Chai Tea Kit includes a recipe sheet and enough ingredients to make dozens of servings! Also, the spices are packaged in beautiful, 100% recycled glass spice bottles from Spain.
In addition to these beautifully packaged Chai Tea Kits, basictea.com also offers over 40 top quality organic loose teas, tea accessories and their unique Basic Tea Sampler sets. Also, creative tea drink recipes (such as the Grounded Masala Chai tea latte) and other tea information can be found on basictea.com.
About basictea.com:
Basictea.com is an online retail teashop, specializing in organic & biodynamic teas from around the world. All teas from basictea.com are packaged in eco-friendly, 100% biodegradable cellulose bags, which are made in the U.S.A. from sustainable wood pulp.
About Grounded Organic Coffee & Tea House:
Grounded is a neighborhood coffee house in the heart of the West Village in New York City. Since opening their doors in early 2004, Grounded has earned a large and loyal customer base. Among their most popular drinks, the Chai Tea Latte is perhaps their biggest seller. You can visit grounded online at groundedcoffee.com.
Contact:
Mark Greenberg
Basictea.com
609-662-0267
markg @ basictea.com
###