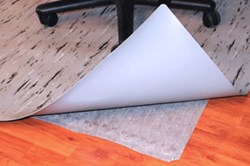 The new Heated Chair Mat System has made my own desk area warm and comfy during this brutally cold winter.
Cleveland, Ohio (PRWEB) February 06, 2014
The new Heated Chair Mat Systems provide warm, radiant heat under office rolling chairs or at workstations. They can replace existing chair mats, and work on hard floors or most carpeted surfaces.
The new Heated Chair Mat System consists of our Spiffy Vinyl mat and our UL-listed RugBuddy warming mat. Martinson-Nicholls also recommends using their KimaGrip non-slip, reversible, thermal insulation padding prevents wrinkling, buckling, crawling, and moving of an area rug and RugBuddy on any type of flooring.
The RugBuddy is simply placed on a user-supplied non-slip/non-creep pad (available at local hardware or flooring stores) or KimaGrip pad, and under the Spiffy Vinyl mat. The kit provides radiant heat from the floor all around the chair or work area for maximum comfort and productivity. RugBuddy is much safer than dangerous space heaters, and the GFCI protected cord provides additional protection. It is durable and can withstand furniture legs and rolling office chairs.
Tests show our chair mat system will reach about 76-77°F. in 15-30 minutes when placed on a 60°F. floor. The RugBuddy uses only 11 watts of energy per square foot.
"The new Heated Chair Mat System has made my own desk area warm and comfy during this brutally cold winter," states company president Dan Ruminski.
The Heated Chair Mat Systems are offered in two standard sizes. In addition to the typical 3' x 4' chair mat size, a larger 3' x 5' system is offered for warming a larger space. The vinyl is a marbled-look gray that fits with all decors.
About Martinson-Nicholls
Martinson-Nicholls, has established itself as a leader in custom anti-slip tape, floor mats, and eco-friendly products for more than 25 years.
Martinson-Nicholls provides the customer with the exact size matting needed--small, large, standard, nonstandard, special shapes and logos. Custom installations are also a specialty of the company.
Anti-slip safety tapes and treads are available in various sizes and textures from hand cut or die cut pieces to full rolls and special shapes. For more information, please visit http://www.floormat.com.