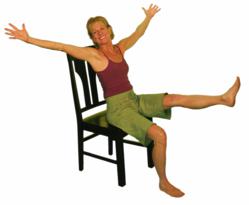 The response I see and hear from everyone I teach Lakshmi Voelker Chair Yoga to is inspirational. I get so much more than I give each time I share chair yoga...Dr. Lyn Litchke
Huntington Beach, CA (PRWEB) February 28, 2013
Dr. Lyn Litchke performed a ten-week research study on the effects of Lakshmi Voelker Chair Yoga (LVCY) on thirty-eight persons with Alzheimer's disease living in an assisted living home. Additionally, she studied a specifically designed yoga program for children with autism at a four-week summer camp. As a result of the first study, she has published a research article and made professional presentations at state and national conferences on the resulting positive effects.
She also has taught twenty one-hour sessions for the Wounded Warrior Battalion as part of the US Paralympics program at Ft. Sam Houston, Texas.
She began her current journey by taking the LVCY Teacher Training. This certification combined with her BS in Therapeutic Recreation (TR) and her Ph.D. in Adult Education led to her working with and studying special populations.
The response Dr. Litchke receives from everyone she shares LVCY with is inspirational. She personalizes movements using LVCY's levels of flexibility to meet each participant's individual needs. She also has incorporated numerous Validation Therapy (VT) strategies from the works of Naomi Feil. The participants' responses are incredible. Combining LVCY with TR and VT into one harmonious class promotes such engagement.
Here are some responses at the Alzheimer's home from staff and from class participants and their family members.
A participant's son states what a surprise and delight it is to see the coordination and grace that yoga brings to his father's body.
A participant's daughter explains that she watched in amazement as the instructor led a house full of mid-stage Alzheimer's residents through a session of yoga. The majority of the residents were actually capable of much more than I expected. More importantly the classes seemed to elevate the mood of the residents as they attempted poses as a group.
Another participant's daughter commented that her mom has never seemed so alert, happy, and engaged. She was able to stand up for part of the class. That was a first.
A staff member remarked, "I was amazed at how much our residents at the later stage were capable of doing. To see them participate at all was good."
An Alzheimer staff manager states, "Each time that I saw a yoga session, I saw an improvement in participation, focus, and activity. I was impressed at just how much some of the residents were capable of and willing to attempt, at any of the three levels. After the study ended, I definitely began to see a decline in many of the yoga participants."
An Alzheimer resident explains, "During week nine I told my caregiver that sometimes I feel like giving up, but when that yoga lady comes I feel alive."
Dr. Lyn Litchke is an Assistant Professor of Therapeutic Recreation (TR) in the Department of Health and Human Performance at Texas State University-San Marcos where she incorporates Lakshmi Volker Chair Yoga (LVCY) in her TR intervention and trends and issues courses. She graduated LVCY Teacher Training in 2010.
About Lakshmi Voelker, E-RYT 500, YA, IAYT: she has over 40 years in the fitness industry specializing in adaptive and senior fitness. She created LVCY in 1982 followed by the CD The Sitting Mountain Series and the DVD Get Fit Where You Sit. She has certified more than 800 teachers worldwide, including health-care professionals at the Mayo Clinic and the New York City Department of Education. She does live certifications all around the United States and offers Online Teacher Training over Skype. For more information on all her certification programs, click here.