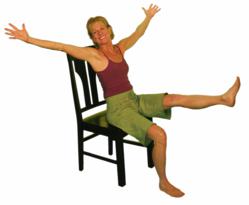 Chair yoga has proved a real benefit in increasing the independence of seniors especially when it comes to driving.
Huntington Beach, CA (PRWEB) May 30, 2013
Marnell Farley, Lakshmi Voelker Chair Yoga Teacher, Lakshmi Voelker Chair Yoga Teacher, in conjunction with Inter Valley Health and the California Highway Patrol, discuss how chair yoga can aid seniors in maintaining their independence longer especially driving.
The KMIR6 piece can be viewed here - Chair Yoga Helps Seniors Drive Longer.
Marnell, who has been teaching chair yoga at Inter Valley offices in Palm Springs and La Quinta, her students, Inter Valley staff, and a CHP officer discuss how the benefits of chair yoga in prolonging the independence of seniors including extending the time they can drive.
Yoga is well known for its benefits physically, mentally, and emotionally. For over 5000 years yoga practitioners have been shown to have benefits to their overall health. Marnell and the Inter Valley staff began hearing more and more from her students that they were finding themselves more alert behind the wheel.
Word of these improvements spread and caught the attention of KMIR6. This led to the piece "Chair Yoga Helps Seniors Drive Longer."
Yoga aids in flexibility, mental alertness (through breathing that better oxygenates the brain), and lowered stress levels. All of these are factors in making one a better driver.
Inter Valley hosts these classes for local residents at no charge as part of their ongoing wellness programs.
About Lakshmi Voelker, E-RYT 500, YA, IAYT:
She has over 40 years in the fitness industry specializing in adaptive and senior fitness. She created LVCY in 1982 followed by the CD The Sitting Mountain Series and the DVD Get Fit Where You Sit. She has certified more than 800 teachers worldwide, including health-care professionals at the Mayo Clinic and the New York City Department of Education. She does live certifications all around the United States and offers Online Teacher Training over Skype. For more information on all her certification programs, click here.