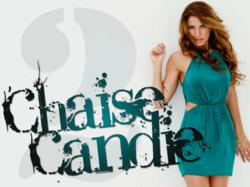 My fans are my inspiration for this entire album. I wouldn't be here without their courage to share their lives with me.
(PRWEB) May 21, 2013
The crowdfunding community is a great resource for undiscovered and emerging music artists. With projects ranging from hip-hop, to country, and everything in between, artists, such as rising performer Chaise Candie, head to sites for help funding their next big hit. Chaise has recruited crowdfunding experts, Command Partners, to help launch her second album on Kickstarter and even plans to release her new music video for her hit single, L.I.F.E., exclusively on Kickstarter.
Ever since she was a child, music has played a vital role in Chaise Candie's life. Early on, she learned of her love for the stage. Chaise would take part in church shows, the school choir, local dance competitions, choreographing neighborhood events and more. As she got older, Chaise began pursuing other passions that involved performing on stage such as writing lyrics. Chaise found the process to be rather therapeutic, especially during hard times. Her passion for lyrics eventually gained her connections with local writers and producers, and she began writing songs for other female artists.
Eventually, Chaise decided to begin writing songs for herself, and produced her first EP called "Batteries Not Included" in 2011. The popularity of this EP created the opportunity to perform on stage and open for artists like Adam Lambert. After countless letters and online communication with her fans, Chaise began writing songs for her next album. Each song is inspired by the letters from fans depicting their life experiences and lessons they've learned along the way.
"My fans are my inspiration for this entire album. I wouldn't be here without their courage to share their lives with me," says artist Chaise Candie. "So I wanted to come up with a way to reward their bravery, and thank them for inspiring me. That's why I'm bringing my next album to Kickstarter."
In order to make her album a success, Chaise has recruited the help of digital marketing agency, Command Partners. With experience working on campaigns of all shapes and sizes, Command Partners is familiar with the crowdfunding community. Command Partners will carry out digital marketing initiatives including social media management, public relations services, Kickstarter updates, overall campaign strategy and more.
"The Command Partners team is very excited to collaborate with Chaise Candie," says President Roy Morejon. "She already has an engaging and supportive online community behind her, and our job is to expand on that community and convert them into backers."
The crowdfunding campaign for Chaise Candie's new album has officially launched today and Chaise is offering many exciting rewards in exchange for supporting her project. To learn more about Chaise's upcoming album, visit the project's Kickstarter page at http://bit.ly/ccalbum2, or connect with her on Facebook and Twitter @ChaiseCandie.
About Chaise Candie
Music has been in Chaise Candie's blood since she was a child. She has always loved performing on stage, and writing lyrics for other female artists. After the success of her first EP, "Batteries Not Included," in 2011, Chaise decided to pursue the production of her own album. To learn more about Chaise Candie's music, visit her website, http://www.chaisecandie.com, and connect with her on Facebook and Twitter @ChaiseCandie.
About Command Partners
Command Partners is a digital media agency that focuses on driving online visibility and lead generation including social media marketing, search engine optimization, public relations and strategic advisory services. Command Partners works with clients ranging from high-tech startups and e-commerce brands to Fortune 500 companies. The agency is located in Charlotte, North Carolina and works with clients around the globe. For more information on Command Partners' services, visit http://www.commandpartners.com, Like them on Facebook and Follow them on Twitter @CommandPartners.