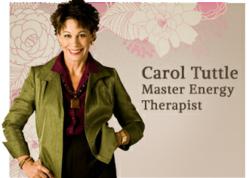 (PRWEB) May 24, 2012
Mindvalley, the leading personal growth online publisher, announces chakra healing course from Carol Tuttle is available from the website chakrahealing.com with a free 3-minute test. The company already provides a rich variety of personal development products, including Omharmonics – music for meditation and Silva Life System – a program based on the Silva Method discovered by Jose Silva.
Carol Tuttle is an experienced healer that has featured on NBC, ABC Television, FOX 13 News, The Huffington Post and Glamour.com. She has also received acclaim from within the personal growth community – A review of the Mindvalley.com website revealed an endorsement from Dr. Joseph Mercola, prominent natural health practitioner, who said that "Carol Tuttle's approach to helping people overcome emotional barriers is amazingly effective. I highly recommend her self-healing techniques to anyone seeking the next level of health and healing."
Entitled Chakra7, the system focuses on reinstating a sense of peace and balance all the seven chakras in human body. Central to the regimen is the belief that "a deficiency in the energetic ecosystem [in the body] can wreak havoc in one of seven areas in your life." The free 3-minute chakra test is designed to assist people with assessing which chakras may be out of balance and overpowering certain aspects of their lives.
According to Carol Tuttle's system, the seven chakras correspond to seven different aspects of living controlled by the following energy vortexes: the 1st Chakra aka the root chakra for career and wealth, the 2nd Chakra aka the sacral chakra for sexual energy, the 3d chakra aka solar plexus chakra for personal spirituality, the 4th chakra aka heart chakra for loving relationships, the 5th chakra aka throat chakra governing communication, the 6th chakra - third eye chakra for intuition and the 7th chakra aka crown chakra for intellect. Tapping into them and rebalancing through chakra healing is thought to have powerful beneficial effects.
Mindvalley is one of the world's fastest growing online publishing companies. Through a unique blend of conscious marketing, technology and experimental work culture, the Mindvalley team spreads enlightened ideas across the internet and beyond. Chakra Healing is one of Mindvalley's most successful products.
Find out more if your chakras are blocked – take Carol Tuttle's free 3-minute Chakra Test