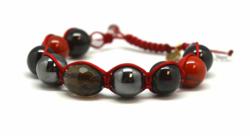 Los Angeles, California (PRWEB) November 15, 2012
Energy Muse Crystal Jewelry (Energy Muse), an inspirational jewelry company, announces their Chakra Collection, a global bracelet line dedicated to the 7 Chakras.
The handmade bracelets are comprised of unique stones designed to capture the essence of each Chakra. Earthy and vibrant, the collection of stones work together to help balance energy flow within. Each piece has natural healing properties that vitalize the body, and targets both physical and conscience needs.
Energy Muse's Chakras Collection stems from ancient traditions of Hinduism and Buddhism, in which many practice and believe there are 7 main energy centers of the body--Root Chakra, Sacral Chakra, Solar Chakra, Heart Chakra, Throat Chakra, Brow Chakra, Crown Chakra.
Located at the base of the spine, the Root Chakra, also known as the first Chakra, promotes survival, security and vitality. The color associated with this Chakra is Red. Red symbolizes manifestation and identity. Smoky Quartz, Red Jasper, Garnet, and Hematine all release energy levels to help stabilize confidence and security.
To read about all the other products in the Chakra Jewelry Collection, please visit http://www.energymuse.com/store/shop-by-collection/chakra-collection.html.
About Energy Muse:
Energy Muse is the leader in conscious wellness energy, providing tools of empowerment, inspiration and hope. The company, based in Southern California, was founded in 2000 by native Californians Heather Askinosie and Timmi Jandro, best girlfriends for over 35 years. Seeking to educate and reconnect the world to the ancient wisdom and healing properties of crystals, each piece of jewelry combines energy and intention which create a desired outcome. Energy Muse transcends what one might think of jewelry and has instead become a lifestyle of wearable energy. For more information about Energy Muse Jewelry visit http://www.energymuse.com.