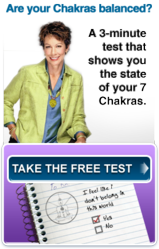 By recognizing that our chakras are our seven gateways for both our physical energy and our consciousness, we can begin the process of opening ourselves
Beaverton, Oregon (PRWEB) October 17, 2012
For those seeking the answers to a more balanced life, ChakraHealing.com is now offering a complimentary 3 minute test and personalized report to help a person determine which areas of their life are lacking and how to revitalize by addressing blocked chakras. Individual chakras scores are provided based on test results and chakra meditation techniques are recommended for each blocked area.
This breakthrough program identifies which of the prevailing seven chakras have been compromised and how to begin the healing process for improved energy, vitality and a stronger sense of well being. Each of the seven chakras is distributed in a straight line through the human body beginning at the base of the spine (root chakra) and rising to the top of the head (crown chakra). Based on classical Eastern thought and medicine, chakras are responsible for the mental, emotional and spiritual energies which manifest in daily living through relationships, financial matters and job or family stress.
According to Carol Tuttle, the award-winning author, speaker and businesswoman behind the new program called Chakra Healing, "by recognizing that our chakras are our seven gateways for both our physical energy and our consciousness, we can begin the process of opening ourselves to other people and the world around us, and unfolding our problems and ailments in a safe, comfortable and often enjoyable holistic method."
Her program is based on how to balance chakras by first understanding where they are blocked and how to open them back up again for improved daily living and a more satisfying and fulfilling life. One of the most important chakras also serves as the foundation for financial well being, the Root Chakra. Those who experience a blocked Root Chakra (located around the tailbone at the base of the spine) can begin root Chakra healing through a serious of exercises, meditation techniques and positive affirmations among other healing techniques. A closed root Chakra is often associated with those who struggle with financial matters and feel frustrations with a lack of personal or professional stability and security.
The complimentary 3 minute test is available at http://www.chakrahealing.com/chakra-test
Following the test, participants receive a personalized report on which chakras are blocked and preventing them from improvement in all areas of their life including health, prosperity, love and creativity.
About ChakraHealing:
Chakra Healing (http://www.chakrahealing.com) was developed by Carol Tuttle, an award winning author, speaker and successful business woman. She sought long term remedies for depression outside the realm of prescription drugs and conventional medical therapy. Her techniques were developed through extensive continuing education and personal experimentation on energy and manifestations for purposeful living. She has trained tens of thousands of people around the globe to use their Chakras to improve all aspects of their lives.