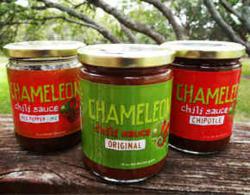 We are extremely excited about our product being approved and now on the shelves at Whole Food Market, the finest market chain in the country
Oklahoma City, Ok (PRWEB) April 08, 2013
Savvy Foods of Oklahoma City first order from Whole Foods Market for Chameleon Chili Sauce – all three flavors: Original, Red Pepper Lime and Chipotle – are now up on the shelves in Whole Food Market's Tulsa store. Chameleon Chili Sauce is a creation of specialty ingredients and unique spice blends that can be used in virtually any recipe that calls for a tomato sauce. Due to its unique blend of spices, Chameleon lives up to its name and blends beautifully into any recipe while allowing each dish to be distinctive.
"We are extremely excited about our product being approved and now on the shelves at Whole Food Market, the finest market chain in the country," enthuses Chameleon Chili Sauce head chef Jonathan Robbins. "It has been a long and rewarding process. One that acknowledges the uniqueness, quality and all natural nature of our Chameleon Chili Sauce along with its exceptional taste."
Back in early 2011, Robbins answered a Whole Foods Market ad in the Daily Oklahoman, the local Oklahoma City paper, asking local suppliers to come and show their wares to WFM buyers. Whole Market Foods likes to have as many of their products as possible come from local vendors as part their "buy local" philosophy.
Without even a jar or label, Robbins brought his yet unnamed sauce to a Whole Foods Market "forager" who became deeply impressed with the taste and quality of the product. He was told to get the sauce market ready.
Robbins did and followed the lengthy internal approval process with WFM which culminated this week with Chameleon Chili Sauce, in all its wondrous versions, appearing on Whole Foods Market shelves in Tulsa. The first order for the Oklahoma City location is expected shortly as well. The full story is on the Chameleon Chili Sauce website.
"What sold Whole Food Markets is clearly the flavors they experienced at the tasting. They were amazed at how such a simple sauce can make plain dishes taste like gourmet foods with such little effort or skill on the cooks part," continues Robbins. "I am looking forward to seeing Chameleon be successful in the Oklahoma market and proving Whole Food Market's faith in us. We are already eyeing expansion within the Whole Foods Market chain and I would love to move into the DFW/ North Texas area and eventually region wide to include all stores in Oklahoma, Texas, Louisiana and Arkansas."
For individuals not currently living in Tulsa, they can get the Chameleon Chili Sauce experience by ordering online. Right now, there is free shipping on orders of two or more jars of Chameleon (any flavor). On orders of more than two jars, the third and additional jars are 50% off and free shipping is included.
How Chameleon Chili Sauce Was Born
Jonathan Robbins, founder of Chameleon Chili Sauce and Savvy Foods, came from a background of gardeners and learned to make sauces from his grandmother and mother. When his mother was diagnosed with cancer, Jonathan left a successful career and devoted his time to taking care of her. As she got worse and her appetite diminished, the one thing she started craving was her chili sauce and she asked him to make a batch. Jonathan soon learned how to make her original chili sauce by following instructions to get the base right. He would then bring her the bowl for tasting. She knew if it was right by the look and taste and would tell him what spices were missing while he took notes.
He then came up with his own creations from experimenting—developing the Chipotle Chili Sauce and Red Pepper Lime Chili Sauce in the process.
Jonathan made up batches and sent jars out to friends and family as Christmas presents and soon people were asking where they could buy the sauce. They couldn't believe it was his and his mother's creations and encouraged him to start marketing it. Before he did, he became a trained chef to ensure that he could develop the best possible product.