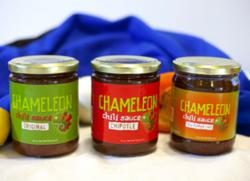 Savvy foodies in Tulsa and Oklahoma City are having their taste buds tantalized by my Chameleon Chili Sauce
Oklahoma City, Ok (PRWEB) June 27, 2013
In celebration of Chameleon Chili Sauce's success in Oklahoma, chef and Savvy Foods owner Jonathan Robbins, developer of Chameleon Chili Sauce, has started a remarkable Internet special that allows foodies and gourmets across the country to purchase Chameleon at a great price and with shipping included. The deal is to purchase three jars of Chameleon Chili Sauce online at http://www.chameleonchilisauce.com (any or all of the three flavors – Original, Chipotle and Red Pepper Lime) for $15 and get shipping included. The regular price is $18 plus shipping.
"Savvy foodies in Tulsa and Oklahoma City are having their taste buds tantalized by my Chameleon Chili Sauce," starts Robbins. "I wanted to give the rest of the country a chance to get on the band wagon. I know it is difficult for someone to just drop some bucks for a new food item they haven't tasted. Even more so for one that is only available to them online. So I decided to do a special that would entice anyone to try Chameleon."
Chameleon Chili Sauce is a creation of specialty ingredients and unique spice blends that can be used in virtually any recipe that calls for a tomato sauce. Due to its unique blend of spices, Chameleon lives up to its name and blends beautifully into any recipe while allowing each dish to be distinctive.
"I can only ask people to be adventurous and check out our website. I know they will be ecstatic with the purchase," concluded Robbins.
How Chameleon Chili Sauce Was Born
Jonathan Robbins, founder of Chameleon Chili Sauce and Savvy Foods, came from a background of gardeners and learned to make sauces from his grandmother and mother.
When his mother was diagnosed with cancer, Jonathan left a successful career and devoted his time to taking care of her. As she got worse and her appetite diminished, the one thing she started craving was her chili sauce and she asked him to make a batch. Jonathan soon learned how to make her original chili sauce by following instructions to get the base right.
He would then bring her the bowl for tasting. She knew if it was right by the look and taste and would tell him what spices were missing while he took notes.
He then came up with his own creations from experimenting—developing the Chipotle Chili Sauce and Red Pepper Lime Chili Sauce in the process.
Jonathan made up batches and sent jars out to friends and family as Christmas presents and soon people were asking where they could buy the sauce. They couldn't believe it was his and his mother's creations and encouraged him to start marketing it. Before he did, he became a trained chef to ensure that he could develop the best possible product.