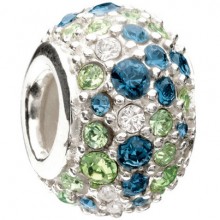 It's always important to give back, and Chamilia let's people do this in a beautiful way
Albany, NY (PRWEB) December 11, 2012
Autism is a growing concern in the United States , with a ten fold increase in prevalence in the last 40 years. The Autism logo is a puzzle piece, indicating the mystery surrounding the disorder. The Chamilia Autism Puzzle Piece Bead represents this symbol in beautiful sterling silver. Purchase this bead to raise awareness for Autism today!
The Chamilia Be The Match Jeweled Kaleidoscope Bead is a gorgeous as the organization is important. With the purchase of this bead, a portion of the sale will go directly to the Be The Match Foundation. This Foundation helps patients with blood cancer disorders, like leukemia and lymphoma find a donor and receive treatment. The Foundation's colors of blue and green are featured with Swarvoski Crystals. This bead will make a loved one happy while providing hope to patients with these life threatening diseases.
Another amazing addition to any bracelet is the Chamilia Pink CZ Breast Cancer Bead. As with all of the Give Back Collection beads, a portion of the sale goes directly to the related cause. The sterling silver ribbon represents the color pink, the national color for Breast Cancer Awareness. Honor the memory of those who have been taken and support all of the fighters and survivors with Chamilia's Breast Cancer Bead.
Kerry Lyn's Boutique is located in Aviation Mall found in Queensbury, NY. The store offers Harveys SeatbeltBags, Vera Bradley, Crabtree & Evelyn, Baggallini, Reno Rose, and Alex and Ani jewelry. Kerry Lyn's Boutique also offers jewelry from their sister company, 25 Silver located in Colonie Center and Crossgates Mall. Follow them on Facebook and Twitter for additional deals and promotions.