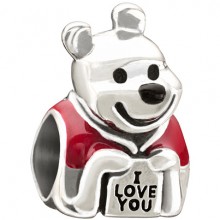 Chamilia introduced some great beads for the third quarter. The NY style beads will remind me of trips to New York City!
Queensbury, NY (PRWEB) July 25, 2012
Chamilia recently released the 2012 Quarter 3 Beads and are now available for purchase on the Kerry Lyn's Boutique website. This release added wonderful beads, including Swarovski Elements beads, new Disney beads, some love and romance beads, New York City beads and more.
The three New York related beads should do well for stores that operate out of NY. The Chamilia Lady Liberty Bead symbolizes the Statue of Liberty, the Chamilia Big Apple Bead, is a silver apple with a green top and NY written in the middle, and the famous I Love New York bead, featuring a silver heart with NY across the center.
Disney released six new beads, which was much needed after retiring many of the Disney beads at the beginning of the year. Winnie the Pooh, Mickey, Minnie and Tinkerbell all make it to the this release. Two additional beads including the sayings, "Believing is just the beginning" and "A dream is a wish" on a silver heart. The Love Winnie The Pooh Bead features the head and upper body of Pooh holding a sign that says I LOVE YOU.
Two new styles, the Double Baguette and the Glistening Meander are a wonderful way to add some color and bling to your Chamilia jewelry. Each style features beautiful Swarovski Elements that catch the light and put a sparkle to your favorite bracelet.
Kerry Lyn's Boutique fills Chamilia orders through it's sister company, 25 Silver. Kerry Lyn's Boutique is located in Aviation Mall and carries Vera Bradley, Crabtree & Evelyn, Baggallini, Harveys, Alex & Ani, Reno Rose and more. 25 Silver is located in Colonie Center and Crossgates Mall, both in Albany, NY.