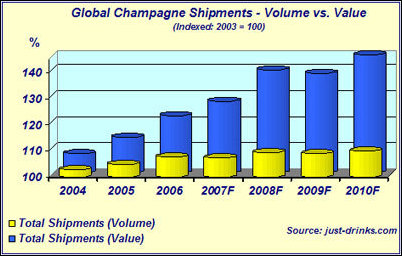 we simply don't have the supply to fulfill such growth... we would prefer 1-2%
London, UK (PRWEB) January 26, 2007
A major new study from just-drinks has revealed an intriguing trend that is taking place within the global Champagne market.
In sharp contrast to wine, the Champagne industry is actually struggling to satisfy demand. The resulting pressures on grape supplies and prices have encouraged many producers to focus on the high margin, lower volume vintage and prestige cuvee sectors as they seek to maximise their returns. As a consequence, the value of Champagne shipments is rapidly outstripping volume.
Emerging Countries Compounding the Problem
Demand for Champagne remains highly polarized with France, the UK and US sharing three quarters of global volume. This said, a number of interesting patterns are developing on a national level.
The explosive UK Champagne market has confounded many analysts. Volumes have almost doubled since the post millennium slump though there are now signs of a slowdown. This slowdown is partly due to higher prices but is also a result of the strategies being adopted by many brand owners. Allied Domecq has placed greater emphasis on value and on-trade presence with Pernod Ricard likely to follow suit.
The emerging markets of Russia, China and India have also advanced spectacularly, contributing towards an 8% increase in export shipments in the first seven months of 2006. Laurent-Perrier's Yves Dumont echoed the thoughts of many producers in stating that "we simply don't have the supply to fulfill such growth... we would prefer 1-2%".
Unique Conditions, Considerable Challenges
In summary, the unique market conditions are presenting considerable challenges. The supply and demand issue must be addressed before rising Champagne prices force consumers to seek more affordable alternatives.
The proposal to increase the appellation provides a long term solution. In the shorter term, the controversial plans to raise yield must be balanced with the need to maintain quality. With huge vineyards at their disposal providing supply flexibility, Champagne co-operatives will inevitably play an increasingly important future role. The coming decade will certainly be viewed with interest.
Further details, sample pages and a table of contents for the study are available at the just-drinks web site.
Notes:
About the Report
The just-drinks 2007 Global market review of Champagne provides market-by-market volume and value data from 2000 -- 2006 alongside forecasts to 2010. The report profiles the major markets of France, UK, US, Germany, Belgium, Italy, Japan, Switzerland, Spain, Australia and the Netherlands and gives an insight into the emerging potential of Russia, China and India.
In addition, the Global market review of Champagne examines the turnover, sales breakdown, markets, brands and vineyards of the 14 leading producers. Executive interviews are supported by just-drinks' verdict on each company.
About just-drinks
Since 2001, just-drinks has provided daily news, analysis and research on the global drinks sector covering wine, spirits, beer, soft drinks and champagne. The site is regularly read by over 70,000 drinks executives each month.
# # #