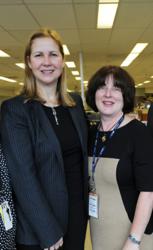 Congratulations to Dr. Bryce on her well deserved recognition. To us, she most certainly is a champion of change and innovation. - Carolyn Cross, CEO and Chairman Ondine Biomedical
Vancouver, BC, Canada (PRWEB) December 31, 2012
Dr. Elizabeth Bryce, Regional Medical Director for Infection Control at Vancouver Coastal Health was awarded the inaugural Champion for Change Award at The Pan Pacific Hotel in Vancouver. The award, proffered by the Women Presidents' Organization (WPO) and GroYourBiz, recognizes global leaders who envision innovative ways of benefiting their community. Dr. Bryce was the championing force in getting MRSAid, a surgical infection control platform created by Vancouver-based Ondine Biomedical Inc., into the stringent testing grounds of Vancouver General Hospital. Her leadership resulted in unprecedented results in the VGH-MRSAid quality improvement project.
"Congratulations to Dr. Bryce on her well deserved recognition. To us, she most certainly is a champion of change and innovation. Her dedicated team at Vancouver General Hospital did a superb job integrating a new protocol into their surgical procedures, trailblazing the path for better patient outcomes." Carolyn Cross, CEO & Chairman of Ondine Biomedical Inc.
Dr. Bryce celebrated her win with an impressive group of nominees including, Laura Hansen of Image Group (Best Places to Work in North America by Counselor magazine, Profit magazine's W100), Sarah White of Fairware Promotional Products (RBC 2012 Canadian Woman Entrepreneur Award finalist, Profit magazine's W100), Marla Kott of ImprintPlus (BMO 2012 Global Growth Award), and Eva Sun of Libra National Inc./The Rice People (Star Woman Award from The Canadian Grocer, Business Leader of the Year from Richmond Chamber of Commerce). This is a B.C.-only award, and the nominating was led by WPO chapter chair Barbara Mowat of Impact!Communications.
"I'm honored to be recognized," says Dr. Bryce, "I'm even more thrilled about the evidence-based results we are seeing from the use of MRSAid to save lives – and time – and money. Our team's achievements are a world's first, an enormous breakthrough for infection control and a huge coup for VGH."
###
About Ondine Biomedical Inc.
Ondine is developing non-antibiotic therapies for the treatment of a broad spectrum of bacterial, fungal and viral infections. The Company is focused on developing leading edge products utilizing its patented light-activated technology, primarily for the healthcare-associated infection (HAI) market. Photodisinfection provides broad-spectrum antimicrobial efficacy without encouraging the formation and spread of antibiotic resistance. The Company is based in Vancouver, British Columbia, Canada, with a research and development laboratories in Bothell, Washington, USA and Minneapolis, Minnesota. Please visit the Company's website at: http://www.ondinebio.com and http://www.ondineblog.com. For further information please contact us at: Ondine Biomedical Inc. info(at)ondinebio(dot)com
About Vancouver Coastal Health
Vancouver Coastal Health provides a full range of health care services, ranging from hospital treatment to community-based residential, home health, mental health and public health services. VCH is responsible for the delivery of $3 billion in care to residents of Vancouver, North Vancouver, West Vancouver, Richmond, and in the coastal mountain communities. http://www.vch.ca