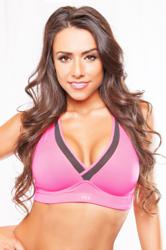 Try To Keep Up!
Albuquerque, NM (PRWEB) July 10, 2012
Cara Ovis, 2012 Model Universe Champion & 2011 Bikini America Champion has joined forces with Jessica Rinaldi, 2012 Figure Universe Champion & 2011 Figure America Champion to launch Champions Club Fitness. Champions Club Fitness follows Cara Ovis and Jessica Rinaldi through their training, bodybuilding and diet preparation for international fitness competitions. Through a series of instructional videos and detailed articles, Cara Ovis and Jessica Rinaldi provide valuable information about how to build muscle, lose weight and live a healthy lifestyle.
As National and World Champions of the largest natural bodybuilding competitions, Cara Ovis and Jessica Rinaldi are also training partners. Together they have won the 2011 Bikini America Championship, 2011 Figure America Championship, 2012 Model Universe Championship and 2012 Figure Universe Championship. As a way to motivate people who are seriously interested in fitness and bodybuilding, they have decided to share their knowledge about training, bodybuilding, diet and weight loss through both their web site championsclubfitness.com and YouTube Channel. As part of the launch of Champions Club Fitness, Cara and Jessica had V6M Productions film them for 90 days prior to the recent Fitness Universe competition in Miami on June 15, 2012. The videos track their preparation from diet, bodybuilding and training advice to motivation and fitness modeling techniques.
"We feel there is a lot of detailed information about how to build your championship body that we can communicate. A lot of what we do is about technique, but what sets us apart is our motivation. I have a full time job as a certified personal trainer and a 7 year old daughter. Cara is a full time student. It is not easy balancing daily life with our training schedules. Most fitness athletes are just like us and want to know how to make it all work. Our goal is to show people that it is possible to be successful, have a family and look great too" said Jessica Rinaldi.
"We want women to know that you can be healthy and look great and you don't have to weigh 100 pounds to do so. Most of the girls we train with are big and beautiful. I competed three weeks ago in Miami for Model and Bikini Universe at 135 pounds with 11% body fat. At 5'9", I am a tall girl and in high school had a bit of a weight problem. Bodybuilding has helped me transform my body where now I am able to carry that size with total confidence" said Cara Ovis.
"Cara and Jessica are two of the most disciplined athletes I have ever coached. They have their down days just like everyone else, but they consistently put in the extra effort required to be a champion" said Mike Donathan, professional fitness coach and trainer.
In addition to offering bodybuilding, diet, training and weight loss advice, Cara Ovis, Jessica Rinaldi and Michael Donathan will share their secrets to motivational excellence. To join the Champions Club and receive fitness and training advice from Cara, Jessica and Mike, visit championsclubfitness.com and the Champions Club Fitness YouTube Channel to subscribe.
Champions Club Fitness, CCF Fitness, is a collaboration of world ranked fitness competitors and coaches. Cara Ovis, Bikini America Champion & Model Universe Champion and Jessica Rinaldi, Figure America Champion & Figure Universe Champion join their coach Michael Donathan to share their fitness, training and competition knowledge.
For more information please contact:
Maverick Granger, Public Relations – CCF Fitness
505-205-2644