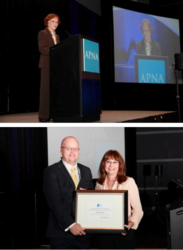 Arlington, VA (PRWEB) November 28, 2012
At the American Psychiatric Nurses Association 26th Annual Conference, held in Pittsburgh this past November 7th through 10th, Former First Lady Rosalynn Carter and Consumer Advocate Eric Arauz were honored with the APNA Champion of Psychiatric-Mental Health Nursing Award. This award honors individuals who have made outstanding contributions to and demonstrated tremendous support of the psychiatric mental health nursing profession and the field of mental health.
Mrs. Carter, in her keynote presentation at the APNA Annual Conference, thanked psychiatric nurses for their work and the important role they play in health promotion. At the conclusion of her keynote address, Mrs. Carter was presented with the Champion of Psychiatric Mental Health Nursing Award by APNA President Marlene Nadler-Moodie, MSN, APRN, PMHCNS-BC. "Mrs. Carter's work to eliminate the burden of mental health stigma in the United States and throughout the world is incredible," says Nadler-Moodie. "She truly is a champion for psychiatric nurses." During the Carter administration, former First Lady Rosalynn Carter emerged as a driving force for mental health. Her position as active honorary chair of the President's Commission on Mental Health resulted in the passage of the Mental Health Systems Act of 1980. She later created and continues to chair the Carter Center's Mental Health Task Force, an advisory body of experts, consumers, and advocates that promotes positive change in the mental health field. She has written five books; each APNA conference attendee received a signed copy of her most recent book, "Within Our Reach: Ending the Mental Health Crisis" (written with Susan K. Golant and Kathryn E. Cade).
Eric Arauz is a consumer advocate recognized throughout the United States as a speaker who promotes and embodies the concept of recovery from mental illness. A Navy veteran with bipolar I disorder and PTSD, Arauz is an adjunct professor for the UMDNJ/Robert Wood Johnson Medical School in the Department of Psychiatry, a recipient of a 2009 SAMHSA Voice Award, and a national keynote speaker and behavioral health consultant. Arauz's extensive involvement with APNA includes speaking at APNA conferences, providing a consumer perspective to inform APNA programming, and working with the APNA Recovery to Practice Task Force on a SAMHSA initiative to transform the concepts of recovery from a set of beliefs to recovery-oriented practices. President Nadler-Moodie presented Arauz with the Champion of Psychiatric Mental Health Nursing Award before Friday morning's keynote presentation on November 9th. "Eric is a true inspiration and psychiatric nursing is fortunate to have his support," says Nadler-Moodie. "APNA is so grateful for all that he has done for our organization."
The American Psychiatric Nurses Association 26th Annual Conference was held November 7th through 10th in Pittsburgh, Pennsylvania. Over 1200 psych nurses and mental health professionals attended the conference, which featured more than 110 educational sessions and the opportunity to earn up to 28.5 continuing nursing education contact hours.
###
The American Psychiatric Nurses Association is a national professional membership organization committed to the specialty practice of psychiatric-mental health nursing and wellness promotion, prevention of mental health problems and the care and treatment of persons with psychiatric disorders. APNA's membership is inclusive of all psychiatric mental health registered nurses including associate degree, baccalaureate, advanced practice (comprised of clinical nurse specialists and psychiatric nurse practitioners), and nurse scientists and academicians (PhD). APNA serves as a resource for psychiatric mental health nurses to engage in networking, education, and the dissemination of research.
The American Psychiatric Nurses Association is accredited as a provider of continuing nursing education by the American Nurses Credentialing Center's Commission on Accreditation.