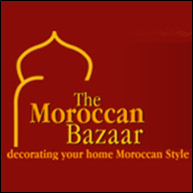 Dallas, TX (PRWEB) April 2, 2007
This month's contest, 'Home Lighting: Decorating Moroccan Style', is an event for amateurs and professionals with an interest in interior design, online shopping and home decorating with Chandeliers. Due to last month's theme overwhelming response, The Moroccan Bazaar announces a repeat of the theme. This time the theme's contest is in a written format and the entry deadline is September 15th.
The contestants need to be familiar with Moroccan home lighting in particular and home decor and interior designing with chandeliers in general. The article is to be 750-850 words with a focus in chandeliers and Moroccan home lighting. The goal of the article writing contest is to expose and to inform the readers about the increasing popularity of Moroccan interior design, chandeliers and home decorative lighting. The article needs to be informative, includes design tips, techniques, opinions and commentaries in other words the writer needs to speak as an expert in the field. Article ideas, editorial guidelines and contest rules can be found at The Moroccan Bazaar's decor site. The winner of the article wins $1000.00 store certificate.
"Decorating with Moroccan home lighting and chandeliers is a unique and fast growing trend in interior design" suggests the largest spike in demand in the last seven years. The Moroccan Bazaar's commitment to the handmade trade in Morocco is stronger than ever as more ways are sought to promote the artisans centuries old traditions, creations and their trade. Trade that is in increasing danger of eradication due to increasing flow of cheap imitation imports from China and manufactured and industrial products in general.
The winner of the contest will be announced via email and newsletter. Also a $1000.00 grant will be disbursed to a Moroccan lighting Artisan specializing in chandeliers in recognition for the dedication to the trade
For more information visit 'Decorating News' The Moroccan Bazaar's decor site.
About The Moroccan Bazaar:
Founded in Tangier, Morocco in 1990, The Moroccan Bazaar moved it operations to Dallas, Texas in 2000 to introduce its product line to the US Market and to support the Moroccan handmade industry, its artisans and their uncertain future due to the proliferation of cheap Chinese imitations.
Contact:
Reda Yamani
The Moroccan Bazaar
972-599-2933
The Moroccan Bazaar
###