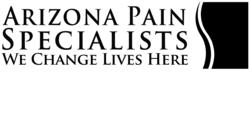 Arizona Pain Specialists has an Award Winning Chandler pain clinic offering comprehensive treatment options.
Chandler, AZ (PRWEB) May 28, 2012
The best Arizona pain clinic in Chandler - Arizona Pain Specialists, have an Award Winning team that has now received four consecutive Patient's Choice Awards along with multiple Phoenix Magazine Top Doc awards. New patients can be scheduled at (480) 535-6722.
The Patient's Choice Award is fairly exclusive among doctor awards. Physicians cannot simply purchase the accomplishment, and medical providers do not vote. Only patients are allowed to vote on their doctors according to expertise in several areas, along with the difference those doctors have made in patient's lives. Only 5% percent of practicing doctors are awarded the accolade out of over 800,000 across the US. Arizona Pain Specialists' providers continue to provide top notch pain management treatment year after year according to patients.
According to the award site, patientschoice.org, receiving a Patient's Choice award mandates rave reviews and almost perfect scores. Facets of care considered include courtesy of office staff, doctor-patient face time, bedside manner, degree of follow-up, and overall opinions. The Chandler pain clinic office includes pain doctors, a Chandler chiropractor, physiotherapists, and licensed acupuncture providers. All of these come together for effective broad care options to get the most out of a patient's chances of successful outcomes and a decreased need for pain medications.
One of the interesting differences between the Patient's Choice Award and other awards is that office staff is included. This makes it a more difficult rating.
Arizona Pain Specialists is not a small practice, with multiple locations helping thousands of patients each month at multiple locations throughout the Valley. The consecutive awards signify that as the AZ pain clinics have grown that quality care has grown with them
Said David Greene, CEO of the Arizona Pain Network "It's a phenomenal accomplishment. Pain management patients often present with such individualized problems that are often chronic. When a large Arizona pain management center can effectively combine customer service with compassion, knowledge, and expertise in patient management, these kinds of awards result. Congratulations to the staff and doctors at Arizona Pain!"
Individuals suffering from pain have comprehensive treatment options at these Chandler pain clinic centers including award winning pain management doctors in Arizona, chiropractors, PT/Rehab, acupuncture, spinal decompression therapy, and massage.
Arizona Pain Specialists has three Valley pain clinic locations including Glendale, Scottsdale, and Chandler, making it easy for patients in Phoenix and surrounding areas to receive care.
For new patient appointments, call (480) 535-6722.