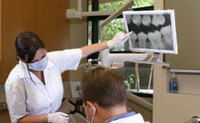 Our goal at Aquila Dental is to provide affordable quality dental restorations to our patients
Chandler, AZ (PRWEB) July 19, 2009
Rich Higgs, D.D.S., the "Chandler Dentist," has dedicated his practice, Aquila Dental to providing dental restoration and cosmetic smile makeovers, to full mouth restorations. Dr. Higgs is committed to life-long training and has extensive post-graduate training with an emphasis on cosmetic dentistry and prosthodontics. He is a graduate of the prestigious Pacific Aesthetic Continuum, one of the foremost hands-on cosmetic dentistry teaching institutions in the world.
Since 1996, Dr. Higgs has been providing services in the East Valley. Aquila Dental, in an effort to meet its patients' needs, has expanded its offerings to provide affordable computer assisted dental designed implants and crowns up to and including the finest all-ceramic porcelain veneers and crowns.
Dr. Higgs has recently added CEREC dental crowns to his available services and products. These all porcelain crowns are made in a single visit without messy impressions, uncomfortable temporary crowns, or inconvenient second visits. Dr. Higgs prepares the tooth, but instead of making impressions, he uses a sophisticated camera to take pictures of the prepared tooth. With the help of a computer, Dentist Higgs then designs and fabricates your restoration right there in the office. You leave that visit with a beautiful, permanent restoration. Because of the time savings with system, patient cost for CEREC crowns, inlays and onlays are reduced. "Our goal at Aquila Dental is to provide affordable quality dental restorations to our patients", says Dr. Higgs.
Dr. Higgs is one of a few general and cosmetic dentists in Chandler providing full-mouth reconstruction and rehabilitation a comprehensive care dentistry for the patient who suffers from a dentition broken down to the point where in order to get a patient to an adequate level of form and function, one or both dental arches of teeth must be restored, typically with porcelain crowns and or porcelain veneers.
Many times the need for full-mouth dentistry is based on a problem within the temporomandibular joint (TMJ) which is caused by a poor bite. These problems often results in the teeth being worn and broken to the point that all of them need to be restored. TMJ can often result in other problems such as Migraines.
A recent medical study indicates that people with chronic migraine pain and chronic headache pain often clench their jaws together in a balanced, centered position. This causes extremely intense muscular contraction, but little strain on the jaw. Nighttime jaw clenching usually goes unnoticed, but it sets the stage for migraine pain and chronic headache pain.
Dr. Higgs now offers the NTI-tss device which has been shown to reduce clenching intensity by 66%. The NTI-tss is a small, nearly invisible, removable device you wear while you're sleeping.
With proper planning and treatment, it is possible to restore teeth to a state of health as good if not better than the teeth have ever been. Dr. Higgs, "The Chandler Dentist", is devoted to improving the lives of his patients through advanced dentistry.
To learn more about the "Chandler Dentist" and the services at Aquila Dental, please visit us online at http://www.ChandlerAZDentist.com
###