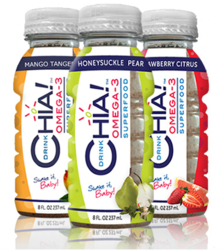 As an active, health-conscious mother of two children, I was constantly looking for a drink for my children that would be healthy, low in sugar, great-tasting and fun
ALTAMONTE SPRINGS, Fla. (PRWEB) September 30, 2011
Altamonte Springs-based Drink Chia! has developed a great-tasting, all-natural, plant-sourced Omega-3 health drink that is only 40 calories and contains only 4 grams of sugar per 8-ounce bottle. The drink, called Drink Chia!, is now available in all six central Florida Chamberlin's Natural Foods Markets.
Omega-3 has long been considered one of the true essential nutrients for good health by nutritionists, but has been a challenge to incorporate into daily diets in a good tasting product. The chia seed contains the highest amount of plant-sourced Omega-3 and is an all-natural superfood that also provides antioxidants and other essential nutrients.
Drink Chia! developers Chandra Davis, Mark Thiesen and Dr. Gideon J. Lewis have incorporated the chia seeds into an alternative drink that test groups agreed is a better tasting, healthier alternative to more widely-used, sugar-laden drinks for adults and children as a way to refresh while sustaining energy levels. Two delicious flavors honeysuckle pear and strawberry citrus are currently available while new flavors are under development. Tiny, soft chia seeds are suspended in the drink, creating a unique appearance and texture. Labeling on the bottles encourage customers to 'shake it baby!' keeping the chia seeds in constant motion.
"As an active, health-conscious mother of two children, I was constantly looking for a drink for my children that would be healthy, low in sugar, great-tasting and fun," said Chandra Davis, one of Drink Chia!'s developers. "I finally realized that, in order to achieve this goal, something new was needed. So Mark, Gideon and I put our heads together and created Drink Chia!."
Drink Chia! is now available in the six area Chamberlin's stores. Locations include Winter Park Village, Oviedo Marketplace, The Market Place on Dr. Phillips Blvd., the LA Fitness Shopping Center in Altamonte Springs, the Grove Park Shopping Center in Lakeland and the Town Corral Shopping Center in Kissimmee.
Additional retail outlets for Drink Chia! include Track Shack, Healthy Foods USA, Hoover Market in Altamonte Springs and Dandelion Cafe. The drink will appear on shelves soon at The Fresh Market in Longwood.
The first shipment of Drink Chia! arrived at the Altamonte Springs warehouse in early June. The entire shipment was unloaded by Chandra, Mark and Gideon. "Unloading our product was a great workout," commented Mrs. Davis. "We were just so excited to have our dream become a reality that we wanted to personally take the delivery."
For more information about Drink Chia!, visit their website at http://www.DrinkChiaNow.com.
About Chandra Davis
Chandra Davis, 38, marathon runner and mother of two boys, went on a search to uncover ancient Aztec and Mayan secrets to optimal energy and natural recovery from fatigue. Her search led her to chia seeds - a natural super food rich in Omega-3 and 6. Incorporating the seeds into the daily diet proved a challenge, prompting her to turn her kitchen into a laboratory and her family as primary test subjects.
Concoction after concoction, Chandra's experiments proved successful garnering the support of her family and trainer for the great-tasting and nutritious super drink which drastically improves the body's energy output while increasing recovery rate. Further testing shows that the drink also boosts brain activity, making it a vital addition to the daily diet of not only athletes, but also of growing children.
Drink Chia! was born from the advice of her trainer Mark Thiesen to bottle her chia drink and is now available in local stores around Florida.
###