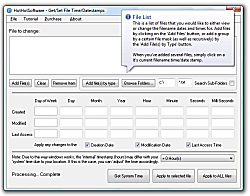 Can't do without. Saves a ton of my time. Kudos to HotHotSoftware.
Los Angeles, CA (PRWEB) February 23, 2013
This new time stamper software from HotHotSoftware allows users to easily change the filename date and time stamps. Everyone from power computer users, to regular users can benefit from this software.
Users can change and set the last modification date, the creation date, as well as the last access portion of the time stamp, touching the time stamp. Also they can recursively change the file modification and creation dates. Users simply select a group of files, either using wildcards or using multiple selections, then click on a file to see its file attributes. Users can either choose to set the time stamp individually, or apply a certain fill the time stamp to all the selected features.
Other features include the ability to adjust for various versions of Windows that adjust the time (i.e. -8 hours GMT), thus correctly adjusting the 'internal' file time stamp. Users may also set the new time stamp to the current computer system time, or user selection. Finally, users may also apply selections in batch, or applied individually to each file.
For more information, please click here.
About HotHotSoftware.com
HotHotSoftware is a company that specializes in developing innovative software applications, solutions and utilities that help shorten development time, increase computer user productivity and enhance the overall computer use experience. Applications range from flash based applications, to Microsoft Excel, Word, and Access plugins, to sophisticated utilities. HotHotSoftware has been featured in various online and offline publications, websites, and editorial sites. For complete details, visit hothotsoftware.com. Companies wishing to have custom software development work may also contact HotHotSoftware for a custom quote.