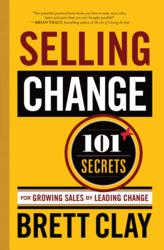 You need to be the one driving the changes that other people are adapting to. - Brett Clay
Bellevue, WA (PRWEB) September 15, 2011
Brett Clay, author of 'Selling Change, 101+ Secrets for Growing Sales by Leading Change' shared some of his secrets for successfully leading change on The Accidental Guru Radio Show, hosted by Dov Baron.
The show airs at 10:00am Pacific time on Thursday, September 15, 2011 on Contact Talk Radio (http://tunein.com/tuner/?StationId=111077&) and on 106.9 FM and HD channel 3 in Seattle, WA. Clay's interview will be archived and can be listened to at any time at http://radiodov.com/leadership/brett-clay-september-15-2011/
Host Dov Baron begins the show by introducing the importance of being able to change in today's economic and global environment and how short-term pain can yield long-term gain. Conversely, those who don't take potentially painful actions in the short-term may endure the long-term pain of obsolete skills and reduced living standards.
In the fast-paced interview Brett Clay, an expert on leading change, answers a number of questions pertinent to the challenges of many listeners, including:

What is it that people don't know about change?
How can a person be a change leader instead of a change follower.
How do you harness motivations?
What are the best ways to respond to the forces of change?
Is it possible for everyone to be a change leader?
Clay also discusses several secrets from his book, 'Selling Change,' including the forces that drive and motivate change and the six personality types that describe how people respond to and lead change.
About Change Leadership Group and Brett Clay
Clay is the author of "Selling Change," named the best business book and best sales book of 2010, and is the CEO of Change Leadership Group, LLC, a firm that helps clients improve their sales, marketing, and leadership capabilities. A veteran of 20 years in international sales and marketing management, most recently with Microsoft Corporation, he is an award-winning author, award-winning marketer, trainer, speaker, consultant, and business leader. http://www.ChangeLeadershipGroup.com
About The Accidental Guru Radio Show
The Accidental Guru is hosted by tell-it-like-it-is Dõv Baron and airs on Contact Talk Radio every Thursday at 10:00am Pacific time. Even though Baron's style is direct and not sugar coated, right away listeners feel that he deeply cares about them--enough to give them answers they need to take them from where they are to where they want to be. http://www.radiodov.com
###