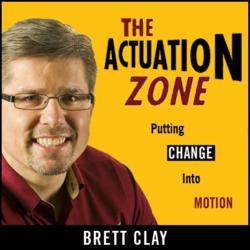 Put change into motion--and achieve your goals.
- Brett Clay
Seattle, WA (PRWEB) September 20, 2011
Brett Clay, author of 'Selling Change, 101+ Secrets for Growing Sales By Leading Change,' interviewed performance coach, author, speaker, and trainer Dov Baron, creator of the C.O.R.E Affluence System, and president of Baron Mastery Institute on The Actuation Zone Radio Show.
Baron says people must take two critical actions to be truly effective and happy. First, they must find their inner "core" that truly gives them happiness and fulfillment. Second, they must let go of their fears. The motivation and happiness people feel when they move toward their core extinguishes their fears and releases their true potential for high performance.
People often look for external factors to derive motivation and satisfaction. But, says Baron, "True wealth and abundance come from the inside out." Only by first looking internally and finding their core, can people then obtain prosperity and happiness on the outside.
Baron, who teaches a seminar called "Claim Your Competitive Edge," also discusses current economic and employment trends in the interview. He says people must stop "clutching the dinosaur," that is, the hope that their old jobs and skills will one day become valuable, again. People must accept that the economic landscape has changed permanently and he remains optimistic that if people develop new skills, they will be able to compete and create value in the economy.
Baron also reveals his "three C's" people must follow if they are to do business in the new economy. He says the assumptions and rules that make businesses successful have changed and that listeners need to let go of the old assumptions and embrace the new.
About the Actuation Zone Radio Show
Change leadership author, Brett Clay, hosts The Actuation Zone, where he discusses business trends and today's hot issues with thought-leaders—authors, analysts, scholars, journalists, and practitioners—who are not just adapting, but are creating and exploiting new opportunities, by leading change. The Actuation Zone is broadcast on Contact Talk Radio 106.9FM HD3 in Seattle, WA and is available on iTunes and RSS. http://actuationzone.com
About Dov Baron
Dov Baron is the president of Baron Mastery Institute, the only resource for training tomorrow's leaders in the implementation of "The C.O.R.E Affluence System for Leadership." http://baronmastery.com
###