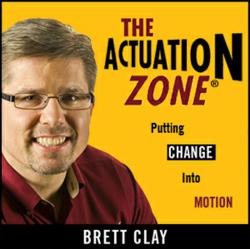 The Actuation Zone®. Where you put change into motion--and achieve your goals!
- Brett Clay, host
Seattle, WA (PRWEB) October 14, 2011
Change leadership expert, Brett Clay, author of 'Selling Change, 101+ Secrets for Growing Sales By Leading Change,' interviewed Julian Birkinshaw, PhD, professor of strategy and entrepreneurship at the London Business School, on The Actuation Zone® Radio Show.
The interview may be heard live at 8am Pacific time, Friday, October 14, 2011 on KRWM 106.9FM HD3 in Seattle, WA or online at ctrhotspot.com. It can also be accessed on-demand at http://actuationzone.com.
Professor Birkinshaw is the author of 'Reiventing Management, Smarter Choices for Getting Work Done' and is the co-founder, along with bestselling author Gary Hamel, of the Management Innovation Lab (MLab), a unique partnership between academia and business that is seeking to accelerate the evolution of management techniques and structures.
In the interview, Birkinshaw discusses the observations and research that have led him to conclude that most companies must reinvent their management systems to remain competitive in today's markets. He notes that the management principles commonly employed by companies date back to the Industrial Revolution. In that era standardized rules and procedures enabled companies to scale manufacturing and optimize for efficiency.
However, in the 21st century, improved communication technologies and access to a global supply of resources have not only increased the number of competitors, but have also increased the speed at which competitors move in the market. Therefore, the rules of competition have now changed from efficiency to agility. Companies now must optimize their systems for innovation and agility to remain competitive.
Birkinshaw says the choices a company makes about "how it gets work done" can be thought of as a "management model", similar to the choices a company makes about how to generate profits are thought of as a "business model". He says there are two dimensions on which to make these choices:
1) Decision-making, which ranges from "hierarchical, top-down", at one end of the spectrum, to "collective wisdom" at the other end.
2) Behavior, which ranges from bureaucratic, that is "standardized," at one end of the spectrum, to emergent, that is "self-determined," at the other end.
The tendency is to think of these choices in "either-or" contrast. However, says Birkinshaw, the smartest choices are usually "both-and," and may often be counter-intuitive. The key is to look openly at which functions would benefit from less standardization. He cites examples of companies that are de-standardizing their budgeting, expense, and performance review procedures--processes that are often the most tightly controlled and standardized.
The interview also covers future trends in management, analysis of Charles Handy's Age of Unreason predictions, and other pertinent management topics, such as current trends in M.B.A. degree programs. It concludes with Professor Birkinshaw's recommendations for three changes managers should be making, today, to improve in their businesses and careers.
About the Actuation Zone® Radio Show
The Actuation Zone® Radio Show airs LIVE on Contact Talk Radio at 8am Pacific time on the 2nd and 4th Fridays of every month and may be accessed online at http://ctrhotspot.com/page/how-to-listen and in Seattle, WA on KRWM 106.9FM HD3. Free subscriptions are available via RSS and on Apple iTunes. Subscription links, announcements and discussion about the show are available on Facebook at http://www.facebook.com/TheActuationZone.
Inquiries regarding being a guest or advertising on The Actuation Zone may be sent to guest(at)actuationzone(dot)com.
About Host, Brett Clay
Brett Clay is the author of "Selling Change," named the best business book and best sales book of 2010, and is the CEO of Change Leadership Group, LLC, a firm that helps clients improve their sales, marketing, and leadership capabilities. A veteran of 20 years in international sales and marketing management, most recently with Microsoft Corporation, he is an award-winning author, award-winning marketer, trainer, speaker, consultant, and business leader. Brett Clay may be followed on Twitter at @SellingChange. http://www.ChangeLeadershipGroup.com.
About Julian Birkinshaw, PhD
Julian Birkinshaw is Professor of Strategy and Entrepreneurship at the London Business School. He has written eleven books, the most recent being "Reinventing Management" which has been called a "must read for any manager who wants to make their organization fit for the future." http://reinventingmanagement.com
###