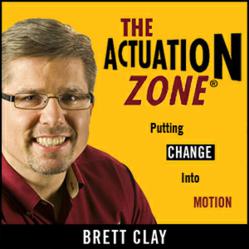 The Actuation Zone®. Where you put change into motion--and achieve your goals!
- Brett Clay, host.
Seattle, WA (PRWEB) November 01, 2011
Mari Smith, author of 'The New Relationship Marketing, How to Build a Large, Loyal, Profitable Network Using the Social Web,' was interviewed on The Actuation Zone® Radio Show, hosted by Change Leadership expert, Brett Clay, author of 'Selling Change, 101+ Secrets for Growing Sales By Leading Change.'
The entire interview can be heard at http://actuationzone.com/2011/10/the-new-relationship-marketing-not-just-one-to-one/.
Mari Smith is a passionate social media leader, specializing in relationship marketing and Facebook mastery. She is coauthor of 'Facebook Marketing: An Hour A Day' and her new book 'The New Relationship Marketing' was just released. Fast Company describes Smith as "a veritable engine of personal branding, a relationship marketing whiz and the Pied Piper of the Online World." Dun & Bradstreet Credibility named Mari one of the Top Ten Most Influential Small Business People on Twitter.
In the radio interview, Smith discussed the latest trends in marketing and how new relationship marketing techniques help companies more effectively engage customers. She also revealed the biggest mistakes businesses make in their social technologies, where businesses should be prioritizing their marketing investments this year, and how businesses can stand out among all the competing demands for customer attention.
About the Actuation Zone® Radio Show
The Actuation Zone® Radio Show airs LIVE on the Contact Talk Radio Network and on KRWM 106.9FM HD3 in Seattle, WA at 8am Pacific time on the 2nd and 4th Fridays of every month. Host, Brett Clay, interviews authors, scholars, and practitioners that provide thought-leading information about how listeners can grow in their businesses and their lives. A complete library of shows may be listened to on-demand at ActuationZone.com. Subscription links, announcements, and discussion about the show are available on Facebook at http://www.facebook.com/TheActuationZone.
Inquiries regarding being a guest or advertising on The Actuation Zone may be sent to guest(at)actuationzone(dot)com.
About Host, Brett Clay
Brett Clay is the author of "Selling Change," named the best business book and best sales book of 2010, and is the CEO of Change Leadership Group, LLC, a firm that helps clients improve their sales, marketing, and leadership capabilities. A veteran of over 20 years in international sales and marketing management, most recently with Microsoft Corporation, he is an award-winning author, award-winning marketer, trainer, speaker, consultant, and business leader. Brett Clay may be followed on Twitter at @SellingChange. http://www.ChangeLeadershipGroup.com.
About Mari Smith
Mari Smith is a passionate social media leader, specializing in relationship marketing and Facebook mastery. She is coauthor of Facebook Marketing: An Hour A Day and author of The New Relationship Marketing. With her popular blog at MariSmith.com, and her large, loyal following on both Facebook and Twitter, Smith is considered one of the top resources and thought leaders in the world of marketing.
http://www.RelationshipMarketingBook.com
###