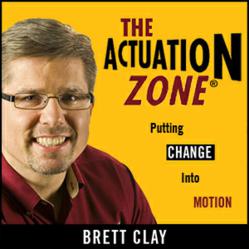 The Actuation Zone®. Where you put change into motion--and achieve your goals!
- Brett Clay, host.
Seattle, WA (PRWEB) November 15, 2011
Change Leadership Group CEO, Brett Clay, interviewed Tim Sanders, author of 'Today We Are Rich' on The Actuation Zone Radio Show.
The complete interview can be heard at http://ActuationZone.com
Sanders, who is also the author of the international best seller, 'Love is the Killer App', discussed how to harness the power of total confidence to experience a happier and more fulfilling life. He said total confidence comes from 1) belief in yourself, 2) trust in your 'team', and 3) faith in a higher purpose. He also described the difference between "circumstantial confidence" vs "lifestyle design confidence" and how they can impact your success.
Sanders also described how he pulled himself out of a 13-year slump he calls his "sideways years." With average American household income lower now than a decade ago, many people feel they are going sideways, at best, in their businesses, careers, and lives. Sanders says a macroeconomic recession does not have to turn into a "personal recession". Rather, economic downturns offer the catalyst to rejuvenate skills and pursue new opportunities. In the interview, Sanders describes a number of powerful, easy-to-implement actions people can take to put "rocket fuel" into their businesses and careers.
About the Actuation Zone® Radio Show
The Actuation Zone® Radio Show airs LIVE on the Contact Talk Radio Network and on KRWM 106.9FM HD3 in Seattle, WA at 8am Pacific time on the 2nd and 4th Fridays of every month. Host, Brett Clay, interviews authors, scholars, and practitioners that provide thought-leading information about how listeners can grow in their businesses and their lives. A complete library of shows may be listened to on-demand at ActuationZone.com. Subscription links, announcements, and discussion about the show are available on Facebook at http://www.facebook.com/TheActuationZone.
Inquiries regarding being a guest or advertising on The Actuation Zone may be sent to guest(at)actuationzone(dot)com.
About Host, Brett Clay
Brett Clay is the author of "Selling Change," named the best business book and best sales book of 2010, and is the CEO of Change Leadership Group, LLC, a firm that helps clients improve their sales, marketing, and leadership capabilities. A veteran of over 20 years in international sales and marketing management, most recently with Microsoft Corporation, he is an award-winning author, award-winning marketer, trainer, speaker, consultant, and business leader. Brett Clay may be followed on Twitter at @SellingChange. http://www.ChangeLeadershipGroup.com.
About Tim Sanders
Tim Sanders, author of "Today We Are Rich," and the international best seller, "Love is the Killer App," is a former Yahoo executive who has launched companies, built brands, and now runs a media services company specializing in business trends, new media and human behavior. He's one of the top-rated speakers on the conference and lecture circuit, and consults with an elite group of global brands.
http://twar.com
###