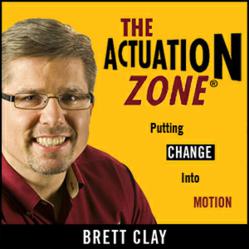 The Actuation Zone®. Where you put change into motion--and achieve your goals!
- Brett Clay, host
Seattle, WA (PRWEB) November 17, 2011
Mark Sanborn, author of the new book, 'Up, Down or Sideways: How to Succeed When Times are Good, Bad or In Between,' will be interviewed on The Actuation Zone® Radio Show, hosted by Change Leadership expert, Brett Clay, author of 'Selling Change, 101+ Secrets for Growing Sales By Leading Change.'
Sanborn will be answering questions from listeners who call into the show (877-230-3062).
The show will air LIVE at 8am Pacific time, Friday, November 18, 2011. Listeners can tune-in to the show from their computers, cell phones, iPad/iPod, and Android devices; and on KRWM 106.9FM HD3 in Seattle, WA. Information on how to listen is available at http://ctrhotspot.com/page/howto-listen.
Mark Sanborn is an international best-selling author and noted authority on leadership and customer service. He has served as the president of the National Speakers Association and is one of the youngest speakers ever to be inducted into the Speaker Hall of Fame.
Sanborn has authored eight books and nearly two dozen audio and video training programs including the best-selling books 'The Fred Factor', 'You Don't Need a Title to be a Leader', and 'The Encore Effect'. In 2007 Mark was awarded the Ambassador of Free Enterprise Award by Sales & Marketing Executives International (SMEI). Sanborn's list of 2,400 clients include Harley Davidson, Costco, Cisco, ESPN, First Data and In & Out Burger.
In the interview, Sanborn will discuss principles from his new book, 'Up, Down or Sideways: How to Succeed When Times are Good, Bad or In Between.' Like many people, Sanborn experienced some of the biggest difficulties of his life during the last several years. Sanborn will discuss the principles of discipline, personal values, prioritization, and attitude that enabled him to overcome his difficulties and that other people can use to overcome their own difficulties.
Other topics Sanborn will cover include how to make ourselves valuable in the marketplace, the "learner's leverage," the "optimist's orientation," and "continuous innovation."
About the Actuation Zone® Radio Show
The Actuation Zone® Radio Show airs LIVE on ContactTalk Radio at 8am Pacific time on the 2nd and 4th Fridays of every month and may be accessed online at http://ctrhotspot.com/page/how-to-listen and in Seattle, WA on KRWM 106.9FM HD3. Free subscriptions are available via RSS and on Apple iTunes. Subscription links, announcements and discussion about the show are available on Facebook at http://www.facebook.com/TheActuationZone.
Inquiries regarding being a guest or advertising on The Actuation Zone may be sent to guest(at)actuationzone(dot)com.
About Host, Brett Clay
Brett Clay is the author of "Selling Change," named the best business book and best sales book of 2010, and is the CEO of Change Leadership Group, LLC, a firm that helps clients improve their sales, marketing, and leadership capabilities. A veteran of over 20 years in international sales and marketing management, most recently with Microsoft Corporation, he is an award-winning author, award-winning marketer, trainer, speaker, consultant, and business leader. Brett Clay may be followed on Twitter at @SellingChange. http://www.SellingChange.com.
###