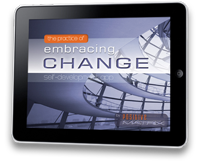 It's a whole different way of engaging, not only from the perspective of how content is presented but it's also about the experience and the engagement with the content.
New York, NY (PRWEB) May 03, 2011
Embracing Change is the first self-development app that puts users in the leadership role as they deal with change - in business, or any aspect of their chosen lifestyles. To hire a professional business or personal coach costs upwards of $400 per hour. By comparison, this app, priced at $9.99, provides users a coaching experience and proven methodology at their fingertips. Coach and author, Robyn Stratton-Berkessel guides users step-by-step via video and audio, as she follows the world-renowned change methodology, Appreciative Inquiry, which up until now has been available only in face-to-face coaching, workshop settings and large organizational summits.
Stratton-Berkessel, has partnered with app developer by Polymash Inc. to create a personal, engaging, interactive self-development experience. In this app, clients are in charge of how deeply they participate in the content. They interact with the graphics, question-sets, and use the in-built tools to connect with their own leadership, and are strengthened by what they learn about themselves and their approach to change. According to Stratton-Berkessel: "It's about self-direction and empowerment. Clients write their stories, dream their best futures, design their courses of actions and develop sustainable implementation strategies, using all the tools right within the app. They can come back to review and modify their changes whenever they want."
The author is excited about what's possible when delivering rich multimedia content on mobile devices. It's a whole different way of engaging, not only from the perspective of how content is presented, but it's also about having a multi-dimensional experience and interacting with the content", says Stratton-Berkessel. Embracing Change provides a potentially transformative change experience and is definitely of great service and utility to users who are serious about envisioning and creating changes for themselves.
Embracing Change is one of the few self-help apps available. Stratton-Berkessel is confident that self-development, self-directed learning apps will become much sought after in app marketplaces. "The experience on tablets lends itself to a more intimate, personalized way of focusing on topics that are important to all of us," she says. She is currently creating other apps along these lines with Polymash Inc.
The new release of Embracing Change improves on some of the original interactive features making this app experience even more immersive and engaging:

A step-by-step, clearly structured practice
Audio coaching and training tips *** NEW
Social media integration *** NEW
Guided approach to story telling
Text edit tool to respond to step-by-step questions and record insights inside the app
Ability to share notes with others
Interactive graphics of models of change
Enhanced usability and navigation *** NEW
Scrollable slide shows
360 work flow panorama
Inspirational quotes, beautiful imagery and graphics
Instructional videos
Supports both Landscape and Portrait orientations
*** To celebrate, V 1.2 will be available for $3.99 for a very limited time before increasing to $9.99 ***
Embracing Change is available worldwide through the iTunes App Store in the Business and Education categories.
About the app author: Robyn Stratton-Berkessel, is a leading practitioner, author, and coach in the field of human and organization development. She designs and facilitates workshops, and coaches clients to help them enliven their workshops through language and question protocols, energize their presentations and trainings, and engage in a heartfelt ways with their own clients and communities.
About the app developer: Polymash Inc. is a US based company whose mission is to transform knowledge and content into exceptional experiences on tablets, web and emerging mobile platforms. Polymash offers a full range of app creation services that combine:

the design, authoring or converting of interactive content for tablet devices
assistance to clients with overall information product design and development, app marketing strategy, services and support
a team of experienced IT and publishing professionals, specializing in user experience design, content and language optimization, marketing and social media integration, as well as creative web and graphic design.
###