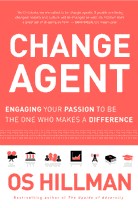 Culture does not care who solves their problem; they just want their problem solved. Those who solve problems become the influencers.
Atlanta, GA (PRWEB) July 31, 2011
Os Hillman believes America has become a secular society and unless there are change agents who can cause tipping points to reverse this trend our future is dim. Change Agent, the title of his new book, provides an exhaustive look at where he believes the nation is moving with dire consequences. Hillman believes the key is whether a new generation of problem solvers emerges or we stay stuck in being critics of society by faith-based leaders. He believes there is a spiritual foundation that must be re-established for this the trend to be reversed.
Some of the key points Hillman makes in this groundbreaking book include the following:
-Worldview is becoming increasingly secular according to statistics – only 9% of general society holds a biblical worldview, and only 19% of Christians hold a biblical worldview.
-Culture is shaped by the 7 mountains of cultural influence – business government, media, arts and entertainment, family, education and the family. Hillman features a chapter on each of the 7 cultural mountains and describes where he believes we are and what we must do to influence these strategic areas and what success will look like.
-We have influence in culture when we solve societal problems as modeled by Jesus.
-There are 6 stages found in those who become positive change agents in culture and he devotes 1/3 of the book to describe this process.
-More than 50% of marriages are ending in divorce which he believes is one reason the gay population is growing. The family is the foundational cultural mountain that affects all the others.
-It only takes 3-5% of those in leadership to shift a cultural gate of influence. He supports this premise with case studies.
-Why increasing the number of Christians in society will not change society.
Hillman believes that individuals must engage their passion to be the one that makes a difference. He does this by helping men and women see a spiritual basis for their work as a calling. And he believes that Christians should stop criticizing leadership and start solving problems in the culture if they truly want to have influence. "Culture does not care who solves their problem; they just want their problem solved. Those who solve problems become the influencers," says Hillman.
He believes many evangelical Christians have approached culture the wrong way and need to start serving those in the culture if they want to see a change. He believes dialoguing with those who differ is the only way to have influence. No matter what level of influence one holds, Hillman believes we all can have influence.
Os Hillman is president of Marketplace Leaders, an organization whose purpose is to help men and women discover and fulfill God's complete purposes through their work to have greater influence on culture. He has authored 12 books on the topic of faith and work, and is the author of a free daily devotional called TGIF, Today God Is First, http://www.TodayGodIsFirst.com.
###