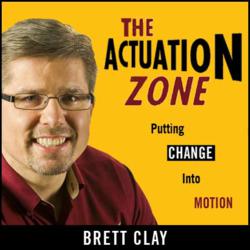 "Leaders don't adapt to change... they make it happen."
-- Brett Clay, award-winning author of Selling Change
Seattle, WA (PRWEB) June 27, 2011
The Actuation Zone® radio show recently celebrated its 63rd episode, having gathered an audience of thousands of listeners since launching in January, 2010.
Hosted by award-winning author, Brett Clay, the show discusses business trends and hot issues with thought-leaders—authors, analysts, scholars, journalists, and practitioners—who are not just adapting, but are creating and exploiting new opportunities, by leading change.
While The Actuation Zone explores a wide range of topics including leadership, management, sales, and professional development, the underlying theme is "putting change into motion" to help listeners grow in their business and in their lives.
Past guests on the show have included:

Rod Brooks, CMO of PEMCO Insurance
Jim Blasingame, host of The Small Business Advocate radio show
Deepak Chopra, best-selling author of The Soul of Leadership
Gerhard Gschwandtner, Publisher of Selling Power magazine
Jeffrey Hayzlett, former CMO of Kodak and best-selling author of The Mirror Test
Jill Konrath, best-selling author of Snap Selling
Mark Sanborn, best-selling author of The Fred Factor
Brian Tracy, best-selling author of The Art of Closing the Sale
Willis Turner, CEO of Sales and Marketing Executives International
The Actuation Zone® radio show may be accessed online at http://ActuationZone.com. A free subscription is available on Apple iTunes at http://itunes.apple.com/us/podcast/id355387159.
Inquiries regarding being a guest or advertising on The Actuation Zone may be sent to guest(at)actuationzone(dot)com.
About Host, Brett Clay
Brett Clay is the author of "Selling Change," named the best business book and best sales book of 2010, and is the CEO of Change Leadership Group, LLC, a firm that helps clients improve their sales, marketing, and leadership capabilities. A veteran of 20 years in international sales and marketing management, most recently with Microsoft Corporation, he is an award-winning author, award-winning marketer, trainer, speaker, consultant, and business leader. http://www.ChangeLeadershipGroup.com.
# # #