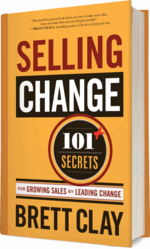 "Customers don't need your product. They need to satisfy their needs." --Brett Clay
Seattle, WA (PRWEB) June 30, 2011
Brett Clay, author of 'Selling Change, 101+ Secrets for Growing Sales by Leading Change,' describes a common mistake made by company executives, marketers, and salespeople that can result in missed opportunities and lower revenues.
"Do people buy your product because they need it?" asks Clay. "All sales courses teach the fundamental concept of "need satisfaction selling."
The notion is that people buy things in order to satisfy a need or want, to fill a gap, to solve a problem. While the concept seems straightforward, there is a subtle point about buying that even the most experienced marketers and salespeople often do not understand. That is, the customer's problem is not that he does not own the vendor's product. His need is not the product. Rather, the product satisfies a need perceived by the customer.
Clay says, "I have worked with genius-level Ph.D.s from Cambridge University in England, Harvard M.B.A.s with many years in marketing at name-brand consumer products companies, engineers who truly believe that customers will come running for their better mousetrap, and salespeople with many years of sales experience. In every case, when I asked them, "What is the customer's problem? What does the customer need?" they said, "His problem is that he needs my product."
"To illustrate," continues Clay, "let's say you need to obtain your management's approval to purchase a widget. When you ask your manager to sign the purchase requisition, your manager asks, "Why do we need this?" You say, "Because we don't have it." Is it likely your manager will say, "Oh. Okay. Then, here's my approval"? Absolutely not!"
"One of the biggest mistakes I see salespeople and executives making," he says "is confusing problems with solutions. This is very easy to do and the English language is partly to blame. We say things like "I need a break," and "I need a coffee." But those are solutions not problems. The problems are fatigue and dehydration."
A need is the existence of a problem, not the existence of a solution. "I sometimes even catch myself making this mistake," says Clay. This can be avoided by asking, "Have I stated the customer's problem as not owning my product or not consuming my service?" He says, "If so, you've stated the solution and you need to ask what problem has been solved."
"But, there is an even more powerful point here," he says. Continuing with the same example, rather than asking, "Do you need a break?" salespeople should be asking, "Do you feel tired?" People buy because they feel a compelling force to take action, not simply because they have a problem. Focusing on what the customer feels is far more powerful, therefore, and opens up a whole new world of possibilities for both the customer and the salesperson.
Clay says, "Executives will be well-served if they let go of the belief that customers need their product. When executives begin to understand customers' real problems and goals, they'll be able to better communicate their value and will be far more successful."
About Change Leadership Group and Brett Clay
Clay is the author of "Selling Change, 101+ Secrets for Growing Sales by Leading Change" named the best sales book of 2010 and 2011, and is the CEO of Change Leadership Group, LLC, a firm that helps clients improve their sales, marketing, and leadership capabilities. A veteran of 20 years in international sales and marketing management, most recently with Microsoft Corporation, he is an award-winning author, award-winning marketer, trainer, speaker, consultant, and business leader. http://www.ChangeLeadershipGroup.com.
###