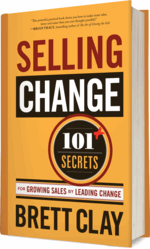 The most value you can deliver to customers is helping them achieve their goals.
Seattle, WA (PRWEB) June 30, 2011
Brett Clay, author of Selling Change, 101+ Secrets for Growing Sales by Leading Change, named the best sales book of 2011 by Axiom Business Book Awards, provided details about why the traditional approach of selling is not effective in today's market.
He says, "The myth we've all been taught is that sales is all about listening for the customer's pain or problem and then solving it. That makes a lot of sense and has served us well. But, today it is not enough."
The first reason solving customer pains is not profitable is that solutions are commodities. Clay says, "If a customer has a pain, what solution will the customer look for? Pain reliever. When you are selling pain relievers, you are one of a hundred solutions in the market. You're a commodity."
How will the customer choose from so many solutions? The customer will likely look for the best price, the most recognizable brand, the biggest box, and other product features. Clay says, "Selling solutions and competing on features is a tough game to win. Only a few companies or individuals with the biggest brand and lowest price will win."
The second reason is that customers don't value pain relief. Clay says, "Once the customer's pain is gone, will the customer will be happy? No, the best you've done is to bring the customer back to normal. We all know the absence of pain does not equal the presence of happiness. Furthermore, the customer has an endless list of problems. The customer will forget about you, immediately, as they go on to solve their other problems."
When a customer hires a vendor, what could the vendor do that would truly make the customer happy – that would delight the client and endear the vendor to the client? The answer: help her achieve her goal.
Goals are paramount. People and organizations are motivated by goals. Managers are measured on goal achievement. Strategies and plans are formulated in terms of goals. Clay says, "Customers don't want more problems or solutions, they want more achievements. Goals are the opposite of a commodity. They are the most value possible—they're priceless. To truly delight your customers, help them achieve a goal. You won't be calling customers to get on their calendar. They'll be calling you to get on your calendar."
About Change Leadership Group and Brett Clay
Clay is the author of "Selling Change, 101 Secrets for Growing Sales by Leading Change" named the best sales book of 2010 and 2011, and is the CEO of Change Leadership Group, LLC, a firm that helps clients improve their sales, marketing, and leadership capabilities. A veteran of 20 years in international sales and marketing management, most recently with Microsoft Corporation, he is an award-winning author, award-winning marketer, trainer, speaker, consultant and business leader. http://www.ChangeLeadershipGroup.com.
###